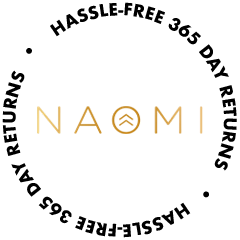 Happiness Guaranteed!!!
Your happiness is our #1 priority. That's why our products are backed by our rock solid 365-day guarantee. If you have a problem, we will solve it. Refund it. Reship it. Whatever it takes. We're here for you. Happiness. Guaranteed.
Ingredients trusted to soothe acid-related discomfort†
NAOMI AcidShield works around the clock and it works when you need it the most—like those stressful days that throw your system out of balance, or those busy times when you're always eating on the run, or those nights when you are craving restful sleep.
Frequently Asked Questions
When and how often should I take AcidShield?
AcidShield is intended to be taken twice daily immediately following a meal and with 6-8 ounces of water. Like most nutritional supplements, it takes time and consistent usage to build up in your system for maximum effectiveness.
Clinical research indicates you should begin to feel symptom relief within 15 days of daily use and it can take up to 30 days to reach maximum potency and effectiveness.
How long before I can expect to see results?
The scientific research indicates that the ingredients in AcidShield start to work within two weeks but can take up to 30 days of continuous use to build up to the maximum potency and effectiveness.
Can I take AcidShield more the twice daily?
Yes, even though the recommended dose is twice daily after a meal, it is safe to take 1 veggie capsule of AcidShield after every meal if that works better for you.
Should I drink water when I take an AcidShield capsule?
Research results are based on taking AcidShield twice daily on a continuous basis after a meal and with 6-8 ounces of water. While individual results may vary, it is recommended that you follow the usage protocol demonstrated by the research findings.
Reviews
Absolutely Amazing! Definitely recommend!
I had been on multiple different prescription meds for reflux over the past 10 years. I was tired of taking prescriptions because of all the side effects and cancer risks. I decided to go a more natural route and couldn't be more amazed! AcidShield is absolutely amazing and I would recommend it to anyone with reflux!!!
This stuff is great!
I've been trying for years to wean myself off of omneprazole and was finally able to do it with the help of AcidShiled!
Game changer
From the very first day of taking AcidShield I've noticed and experienced a remarkable difference in the lessening of my acid reflux symptoms and related digestive issues. This supplement has really made a difference for me and I recommend it highly.
It helps so much. I almost have stopped taking antiacids! Thanks for this product!
I love the product. Excess stomach acid had started to cause some irritation of my esophagus, I had stomach pain and vomiting, and had to seek medical testing. The results called for me to be 'scoped' every for years, avoid acidic foods and regularly take an antacid. I wanted a more natural choice instead of an antacid, and I have been very pleased with my progress. I have much less indigestion and pain, and the vomiting is almost nonexistent. Karen D.