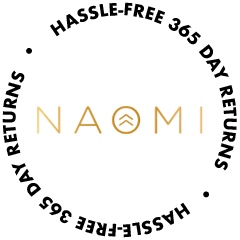 Happiness Guaranteed!!!
Your happiness is our #1 priority. That's why our products are backed by our rock solid 365-day guarantee. If you have a problem, we will solve it. Refund it. Reship it. Whatever it takes. We're here for you. Happiness. Guaranteed.
Reviews
Situation definitely improved
Noticeable decrease in frequency and intensity of hot flashes which is welcome. Other than prescription HRT, this is the best product I've found,
Killed my night sweats and hot flashes completely! Love this product-it really works and works quickly!
Excellent product. When I took it, less night sweat, less hot flashes, I rested better.
Still have more to take took a break, don't like to take pills.
But would recommend this product to anyone who needs it. Blessings!
Took the hot flashes away!
After about 3 weeks of daily dosing, my hot flashes significantly decreased and my sleep quality improved. Now, after about 6 weeks, I am hot flash free. Great product! I recommend a trial if you are looking for a non-hormonal vasomotor symptom relief product.
Love this product…
It truly is the best. I don't have any menopause symptoms anymore. I love all of Naomi's products.