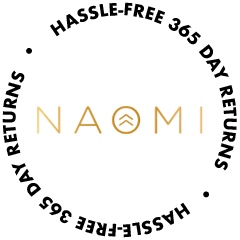 Happiness Guaranteed!!!
Your happiness is our #1 priority. That's why our products are backed by our rock solid 365-day guarantee. If you have a problem, we will solve it. Refund it. Reship it. Whatever it takes. We're here for you. Happiness. Guaranteed.
Ingredients trusted to provide cooling relief from menopause symptoms†
Every serving of NAOMI Harmony is powered by the clinically effective 514 mg dose of EstroG-100, the patented ingredient which combines 3 non-estrogenic, menopause-easing root extracts.
Frequently Asked Questions
How is NAOMI Harmony different from other menopause products?
NAOMI Harmony is unique because it is safely "estrogen neutral". Unlike herbal formulas that introduce, block or disrupt hormone activity, NAOMI Harmon works by optimizing your ability to produce and regulate estrogen naturally.

You can enjoy relief without worrying about long-term health risks or unwanted side effects, such as weight gain. In fact, no adverse effects were reported over the course of a one-year study.***

Plus, unlike estrogenic ingredients that can mimic hormone activity, such as black cohosh and soy, the ingredients in NAOMI Harmony have been shown to work better and faster.

How long before I see results?
Clinical research shows that study participants started to realize symptom relieve in as few as 7 days with the full benefits demonstrated over the course of a 12 week study with daily use.
Are there any side effects?
Is NAOMI Harmony gluten free?
While Harmony is gluten free, it is manufactured in a facility that is not gluten free. This is important information for those with celiac disease but is not a concern if you are simply looking to cut out gluten for general wellness and weight management purposes.

What exactly is "Nuflow Complex" on the ingredient list?
Nu-FLOW® offers producers an option to replace synthetics or other anti-caking agents including SiO2, tri-calcium phosphate, or talc with a natural or certified organic ingredient. Using 'rice hulls' gives a clean, consumer-friendly product while also solving anti-caking, flow and other manufacturing and/or production challenges. The unique functionality comes from the causes that rice plant to take up silica from the soil and concentrate it in the hulls of the rice. Thereby producing a natural alternative to silicon dioxide or other anti-caking/flow agents.
Reviews
A Must Buy
Thought I didn't need it anymore but the hot flushes started again when I stopped. As soon as I started taking it again they were gone. I also notice how it makes me more calmer.It takes less than a week to notice the results.
I have been very happy with this product. I am feeling better and sleeping better. I don't feel that I am experiencing any menopausal issues.
Happy with results
I didn't think this product would work for me but what a surprise I got in two months. I had a total Hysterectomy in 1997 being on Premarin for 25 years I knew I needed a change so I start search the internet for the best natural herb I can find. Naomi came up so I start reading the Ingredients in harmony menopause relief I fell in love. I highly recommend this product for anyone have doubts.
Thanks Naomi
Happy with results
This product is very helpful with keeping me on an even and bearable level of comfort with hot flashes and mood swings. I can tell a difference when I miss just one dose.
Great product. One of the few that doesn't give me heartburn