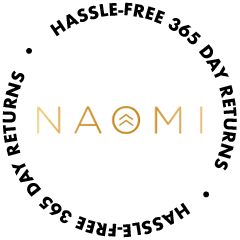 Happiness Guaranteed!!!
Your happiness is our #1 priority. That's why our products are backed by our rock solid 365-day guarantee. If you have a problem, we will solve it. Refund it. Reship it. Whatever it takes. We're here for you. Happiness. Guaranteed.
Frequently Asked Questions
How is NAOMI Turmeric + Resveratrol different from other Turmeric products?
This formula is a unique combination of two powerful antioxidants, turmeric and resveratrol, in clinically proven dosages to provide extraordinary antioxidant and anti-inflammatory benefits.

What is the difference between Curcumin and Turmeric?
Curcumin is found in the root of the turmeric plant and the curcuminoids derived from curcumin are the active ingredient in this formula in extract form.

How long before I see results?
Like with many nutritional supplements, individual results can vary. Typically it takes 4-8 weeks of daily usage for the antioxidants in this formula to build up in your body to provide the clinically proven health benefits.

Are there any side effects?
Turmeric and black pepper extract can cause digestive issues on occasion. If these issues persist for you, discontinue use and activate our 365-day refund guarantee for a full refund.

Is NAOMI Turmeric + Resveratrol vegan and gluten free?
All of the ingredients in NAOMI Turmeric + Resveratrol are both vegan and gluten free though the product has not been certified as gluten by the manufacturer for those with severe issues with gluten.

Reviews
Turmeric + Resveratrol
My right hip inflammation and pain has greatly decreased since taking this great product! I love that Naomi cares about quality and cost. Thank you.
Turmeric + Resveratrol 90-Day Supply
LOVE this product!!
I love this combo! Turmeric is very important to me for brain health. My family has a history of Dementia. And the Resveratrol has had some amazing unexpected results. My body fat percentage is going down! Can't wait until this is in stock once again!!
Great product
No side effects. Helps with overall health. Hope you get the product back in stock soon! I am on the waitlist.
Relieved Severe Aches & Pain
I have severe aches and pain in both wrists, my back and ankles. My physician said to take turmeric, and it should help relieve the pain. It does! I am amazed at how much better I feel.