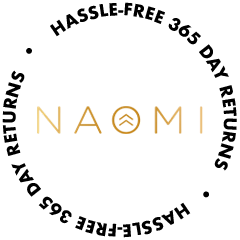 Happiness Guaranteed!!!
Your happiness is our #1 priority. That's why our products are backed by our rock solid 365-day guarantee. If you have a problem, we will solve it. Refund it. Reship it. Whatever it takes. We're here for you. Happiness. Guaranteed.
Frequently Asked Questions
How is NAOMI Mighty MG different from other Magnesium products?
Mighty Mg™ features a combination of magnesium glycinate and magnesium malate.
Magnesium glycinate is the form of magnesium that binds to glycine, a non-essential amino acid that transmits chemical signals to the brain. Glycine is a relaxing neurotransmitter that enhances magnesium's natural calming properties to promote mental and emotional calm as well as enhancing the quality of sleep.
This highly absorbable form of magnesium is gentle on the digestive tract, helps to relax muscles and enhance bone formation while supporting the normal functioning of the heart muscle and blood circulation.
Magnesium malate is another form of magnesium that is gentle on the digestive system. It nourishes muscles to combat fatigue and low energy and plays a role in ATP synthesis, the process by which energy production occurs in every cell of your body.
You can't enjoy the wide array of wellness benefits magnesium has to offer unless it is properly absorbed in your body. And the combination of magnesium glycinate and magnesium malate that is featured in Mighty Mg have been clinically shown to have an extraordinary 250% better absorption rate than magnesium citrate or magnesium oxide that is found in so many highly-advertised magnesium supplements.*
How long before I see results?
Like many nutritional supplements it can take some time for magnesium to build up in your system. Studies have been conducted over a variety of time frames demonstrating that the impact of supplemental magnesium can start within a few weeks. It is best to allow up to 12 weeks of daily usage to experience the full benefits of supplemental magnesium.

Is NAOMI Magnesium gluten free?
While our products are gluten free, they are manufactured in a facility that is not gluten free. This is important information for those with celiac disease - not for the general population looking to cut out gluten for general wellness and weight management purposes.

Reviews
Naomi Mighty MG is the best magnesium I have ever taken. I am experiencing less bone pain after back to back femur breaks on the same leg. I am finally able
To get some sleep at night. Less stomach issues with this great product.😇🙏🙏
Good Quality
I like Mighty MG because it eases body aches and doesn't upset my stomach.
Your product is working for my healing as nothing else has. I have suffered from swollen glands and migraines from my condition that I was told the only help would be drugs that harm my digestive system. So I opted to pursue natural supplements. I am very hopeful that your product Mighty MG will bring me healing.
Amazing
I have been struggling for years with poor sleep and fatigue. Within one week of taking Mighty MG I noticed that I was feeling more at ease...calmer. I had been keeping a sleep journal for several years to try and track the root cause of my fatigue. After taking this supplement for about the 2 weeks, I actually slept through the night!!! I awoke in complete wonderment that I had not spent hours in the middle of the night trying to fall back asleep. I am so happy I tried Mighty Mg!!!