Much of body tissue contains vitamin D receptors, proteins that bind to vitamin D. In the intestines, the receptors capture vitamin D, enabling efficient calcium absorption. Similar receptors are also present in many other organs, including prostate, heart, blood vessels, muscles, and endocrine glands.
Vitamin D helps regulate the immune system and the neuromuscular system as well as playing a major role in the life cycle of human cells. Vitamin D, along with calcium, also helps build bones and keep bones strong and healthy. Not getting enough vitamin D can have serious health consequences.
The best natural source of vitamin D is daily sun exposure. However, it is estimated that over 40% of all Americans have low levels of vitamin D, and this deficiency rate is even higher among women.*
How is NAOMI Activated Vitamin D different from other Vitamin D products?
To enjoy all of the benefits vitamin D can provide, you not only need to get enough of it, but it also needs to be properly absorbed. The mistake millions of vitamin D supplement buyers make, is ignoring the critical role the essential mineral magnesium plays in vitamin D absorption.

Simply put, the bioavailability of vitamin D depends on magnesium. The enzymes in the liver and kidneys that enable vitamin D metabolism can't work without sufficient amounts of magnesium to draw upon.

And research shows that up to 50% of adults are magnesium deficient.*

So, in order for a vitamin D supplement to provide the full benefits, it must include a research-based dose of magnesium as well.
What is the difference between vitamin D3 and vitamin D2?
There are different compounds of vitamin D, such as D2, which is derived from a plant source and D3, which is from an animal source. Vitamin D3 is the form of vitamin D your body naturally makes when exposed to sunlight.
How long before I see results?
Like many nutritional supplements, it can take some time for vitamin D to build up in your system. Much of the research demonstrating the wide variety of health benefits vitamin D can provide is based on research conducted over a 3-4 month period of time.
What are the key ingredients in NAOMI Activated Vitamin D?
NAOMI Activated Vitamin D is formulated with a potent 5,000 IU dose of vitamin D3 (as cholecalciferol), the natural form your body produces in response to sunlight. This formula also contains a research-based dose of 250 mg of magnesium(as dimagnesium malate and magnesium bisglycinate) to both ensure that the vitamin D is properly absorbed and to provide a wide range of additional health benefits including relief from muscle tension and spasms and improved sleep quality.
Is NAOMI Activated Vitamin D vegan and gluten free?
All of the ingredients in NAOMI Activated Vitamin D are both vegan and gluten free though the product has not been certified as gluten free by the manufacturer for those with severe issues with gluten.
| | |
| --- | --- |
| | 2 veggie capsules daily |
| | Preferably with food |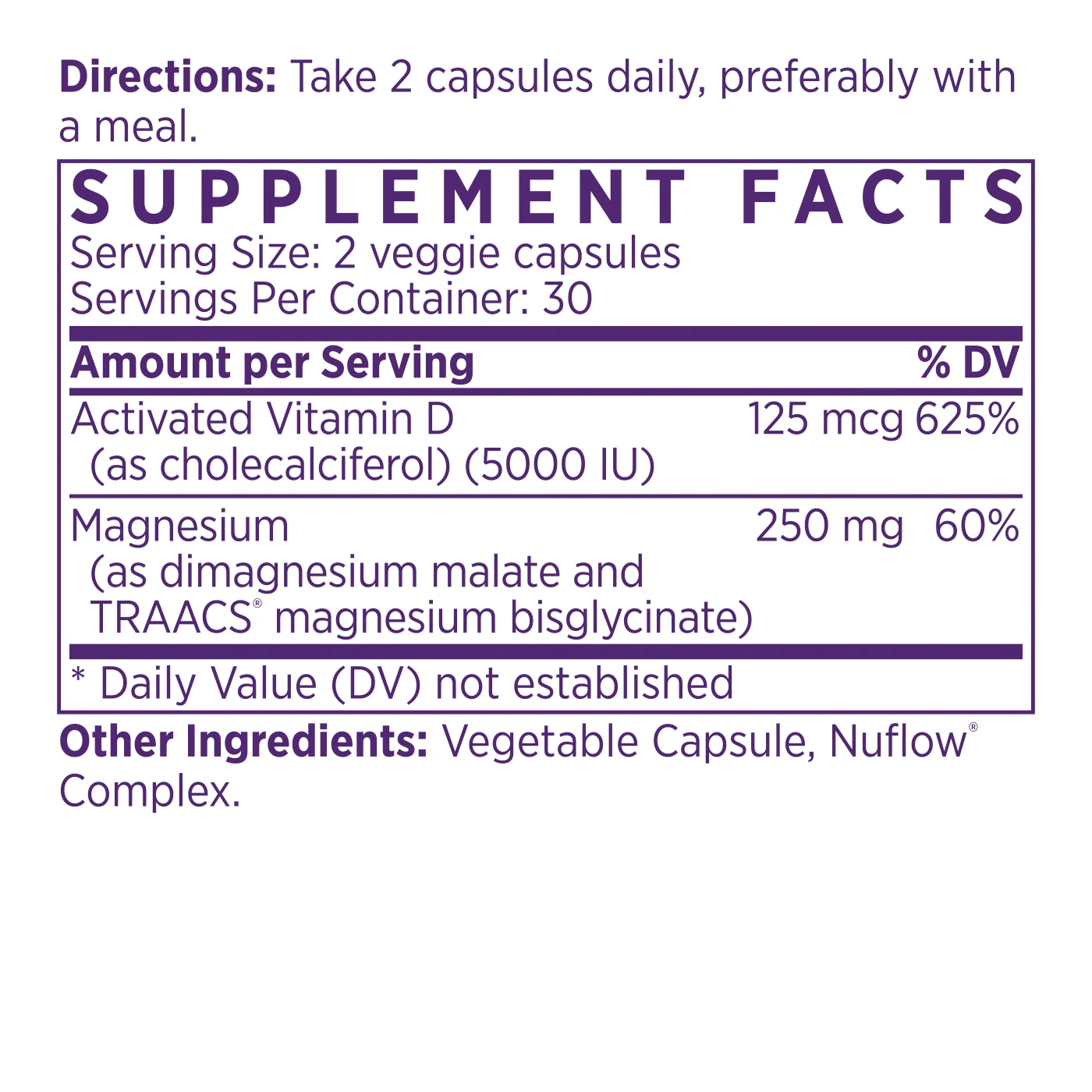 Whole—body Wellness
YOU CAN TRUST
NATURAL INGREDIENTS
LAB TESTED
365-DAY MONEY BACK GUARANTEE
FREE SHIPPING ON US ORDERS OVER $75
Reviews
Vitamin D for my continued health!
Some years back, I had my DNA tested by an Australian lab. The results were interpreted by an English (UK) doctor who has been practicing medicine for over 50 years, I think. I actually also take his Vitamin D product too. The biggest 'red flag' area of my DNA results were in how my DNA processes vitamin D in my body. So I know I need to supplement my vitamin D needs because I can not get it from the sun like most of us humans do. I look for ways to get the most bioavailable D for the most effective cost. The '2x Ativated Vitamin D' from 'Naomi Wittel' has been helpful to me in providing results that work for me!
Good product
I take the Vitamin D along w/Astaxanthin so really can't say which one is doing the most. But I definitely have more energy and stamina than before, brain fog has cleared up, just a general sense of well being.
Vitamin D- Breakthru
I was severely Allerfgic to high dosage of Vitamin D. like 5000 mg.
But with magnesium, there were no Allergic reactions.
Thank you Naomi Whittel