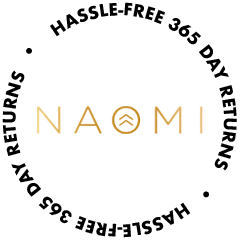 Happiness Guaranteed!!!
Your happiness is our #1 priority. That's why our products are backed by our rock solid 365-day guarantee. If you have a problem, we will solve it. Refund it. Reship it. Whatever it takes. We're here for you. Happiness. Guaranteed.
Frequently Asked Questions
How is NAOMI GloSlim different from other weight loss products?
NAOMI GloSlim is designed to help stop the "stress-fat" weight gain cycle with a unique combination of plant-based adaptogens to reduce the feelings of stress and improve sleep, together with a remarkable West African spicefruit extract, which has been scientifically shown to promote both weight loss and reduced body fat.
This one capsule a day formula features Sensoril®, a highly bioactive form of the stress easing herb ashwagandha, and GloSlim SpiceFruit™, an extract of the dichrostachys glomerata spicefruit native to West Africa.
In over 10 human clinical studies Sensoril® has been shown to reduce the stress hormone cortisol while significantly reducing symptoms of stress including irritability, anxiety and sleeplessness.
GloSlim SpiceFruit has been scientifically shown to help you lose pounds, inches and body fat – nearly 20 pounds, 1.5 inches around the waist and 5.3% body fat on average in 8 weeks.
This formula is enhanced with Rhodiolife® rhodiola to promote energy and endurance, and Ocibest® holy basil to help burn fat and tone muscle.
How long before I see results?
Weight loss is a gradual process and every experience is different. In clinical studies on average participants lost 19.6 points in 8 weeks.
Do I need to be on a specific diet or exercise regimen when taking NAOMI GloSlim?
A moderate calorie diet along with 30 minutes of daily physical activity is part of a healthy lifestyle. NAOMI GloSlim can work with any diet or nutrition plan.
What if NAOMI GloSlim doesn't work for me?
Any weight loss program can take some time and persistence to work. The research behind the weight loss ingredient featured in GloSlim, an extract of the dichrostachys glomerata spicefruit, was conducted over an 8 week period of daily use with men and women with a BMI of 25-30 (over weight but not obese).
If you have taken GloSlim daily for 8 weeks in conjunction with a healthy diet and regular physical activity and it hasn't worked for you, then you can activate our 365-day guarantee for a full refund.
What are the key ingredients in NAOMI GloSlim?
GloSlim™
With 300 mg of GloSlim™ in every daily serving, you get the same premium-grade DG that produced remarkable weight-management and metabolic-health results in the gold-standard clinical study I mentioned above – an average of nearly 14 pounds lost in just 8 weeks.

Sensoril®
You get the purest, most-potent stress-easing herbs with a full 250 mg of my proprietary Stress Adapt blend featuring Sensoril® and RhodioLife®. These patented forms of Ashwagandha and Rhodiola have been scientifically shown to reduce feelings of stress by 69% while triggering fat burning.

OciBest® Holy Basil
Enhanced with OciBest® Holy Basil, a botanical which has been revered in Ayurvedic medicine for centuries and has been scientifically shown to stimulate irisin, the fat-burning hormone inside your body. According to scientists at the University of Florida, it helps convert calorie-storing white fat cells into energy-providing brown fat cells. In other words, it tells your body to use calories for energy instead of storing them as fat.*

Is NAOMI GloSlim vegan and gluten free?
All of the ingredients in NAOMI GloSlim are both vegan and gluten free though the product has not been certified as gluten free by the manufacturer for those with severe issues with gluten.

Reviews
GoSlim is great!
I've lost 24 pounds on GoSlim! It has given me energy and helps me every day to feel wonderful! I've had enough energy to make better meals and feel even better!
Very Happy with results
Excellent results no side effects. Very hard to get again sold out
Very impressed
I noticed it long after taking Goslim my stomach was much less bloated. I am thrilled this is a great product. Just wish it was more readily available in Canada.
Gloslim
Product was good, but my disappointment is that I am waitlisted (and have been for quite some time) for more.
Happy with results. Out of stock not able to reorder