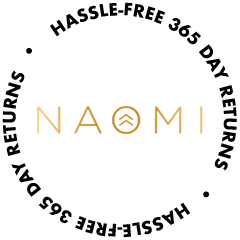 Happiness Guaranteed!!!
Your happiness is our #1 priority. That's why our products are backed by our rock solid 365-day guarantee. If you have a problem, we will solve it. Refund it. Reship it. Whatever it takes. We're here for you. Happiness. Guaranteed.
Reviews
Love the Berber one! I've lost 6 lbs
Love the weight loss duo!! Even falling off track with eating seems more forgiving, by using the duo! I always find Naomi's products deliver the benefits! Thank you!
When I go into the website I easily search for the products I want. I am always happy to find the qualities and research on each product I want.
Remember !
Definitely works better with the duo than with out! I lost 7 lbs in one week with and 3 lbs without. Needless to say I'll be remembering to take it !
At 78 it is difficult to take off what I "rewarded" myself with over the years, big sigh, but I am down from 178 to 164..Good for me, right? LOL Thank you Naomi. Headed to 150...half way there.🍒