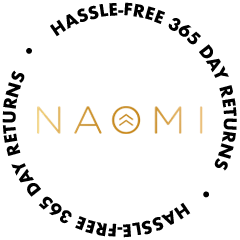 Happiness Guaranteed!!!
Your happiness is our #1 priority. That's why our products are backed by our rock solid 365-day guarantee. If you have a problem, we will solve it. Refund it. Reship it. Whatever it takes. We're here for you. Happiness. Guaranteed.
Experience high-quality fish oil that's beyond compare
Help protect your brain, heart, skin and eyes as you age with this potent source of omega-3s good fats.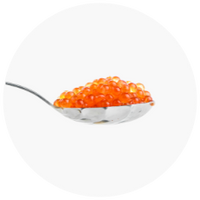 Romega®
Proprietary caviar oil from Arctic herring caught 40 miles off Norway's pristine Northwest coast.*
LEARN MORE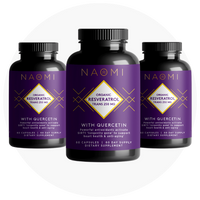 Frequently Bought Together: Organic Resveratrol 250 MG
This proprietary formula features two powerful plant sources of organic resveratrol, including polygonum cuspidatum and muscadine grapes, plus organic trans-Resveratrol (250 mg).
LEARN MORE
Frequently Asked Questions
How is NAOMI Norwegian Omega-3+ different from other fish oil supplements?
This formula features Romega® caviar oil which contains 12X more DHA-derived anti-inflammatory compounds and 6X more EPA-derived anti-inflammatory compounds than regular fish oil supplements. The pure oil from Norwegian cold-water herring contains the naturally occurring nutrients and ratios of omega-3s shown to fight inflammation.
Does this fish oil supplement cause fishy burps?
No, you don't have to worry about fishy belching, because our oil is so clean and fresh. When fish oil is not extracted or processed quickly, it begins to oxidize and break-down, which leads to that unpleasant, fishy belching. We extract our caviar oil just 40 miles from where fish are caught to preserve ultimate freshness.
Is this fish oil from a sustainable source?
Our caviar-derived omega-3 oil is pure, potent and sustainable. It's certified by the Marine Stewardship Council (MSC) for meeting the strictest international standards of sustainability and traceability.
How long does it take for Norwegian Omega-3+ to work?
As with any supplement, it takes time for the oil's active, inflammation-fighting compounds to accumulate and start supporting brain and heart function, and healthy skin and eyes. Studies show that benefits can begin in as few as 8 weeks.
Reviews
I do not take it every day so I do not need any at this time.
I'm still using my other ones so haven't tried them yet.
I can only trust that Omega 3+ is working in my body..
Rarely ever repeats on me.
Rarely ever repeats on me like other omega fish oil. A small soft gel making it easy to swallow not like other omega horse pills.