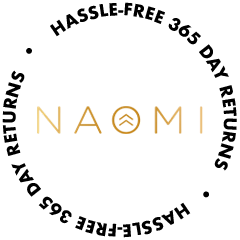 Happiness Guaranteed!!!
Your happiness is our #1 priority. That's why our products are backed by our rock solid 365-day guarantee. If you have a problem, we will solve it. Refund it. Reship it. Whatever it takes. We're here for you. Happiness. Guaranteed.
Frequently Asked Questions
How is NAOMI Mighty MG different from other Magnesium products?
Mighty Mg™ features a combination of magnesium glycinate and magnesium malate.
Magnesium glycinate is the form of magnesium that binds to glycine, a non-essential amino acid that transmits chemical signals to the brain. Glycine is a relaxing neurotransmitter that enhances magnesium's natural calming properties to promote mental and emotional calm as well as enhancing the quality of sleep.
This highly absorbable form of magnesium is gentle on the digestive tract, helps to relax muscles and enhance bone formation while supporting the normal functioning of the heart muscle and blood circulation.
Magnesium malate is another form of magnesium that is gentle on the digestive system. It nourishes muscles to combat fatigue and low energy and plays a role in ATP synthesis, the process by which energy production occurs in every cell of your body.
You can't enjoy the wide array of wellness benefits magnesium has to offer unless it is properly absorbed in your body. And the combination of magnesium glycinate and magnesium malate that is featured in Mighty Mg have been clinically shown to have an extraordinary 250% better absorption rate than magnesium citrate or magnesium oxide that is found in so many highly-advertised magnesium supplements.*
How long before I see results?
Like many nutritional supplements it can take some time for magnesium to build up in your system. Studies have been conducted over a variety of time frames demonstrating that the impact of supplemental magnesium can start within a few weeks. It is best to allow up to 12 weeks of daily usage to experience the full benefits of supplemental magnesium.

Is NAOMI Magnesium gluten free?
While our products are gluten free, they are manufactured in a facility that is not gluten free. This is important information for those with celiac disease - not for the general population looking to cut out gluten for general wellness and weight management purposes.

Reviews
Not sure what they are suppose to do. And if the are doing anything.
Mighty Mg is terrific!
I take it with my evening meal and I feel better and sleep better since I started taking Mighty Mg. I plan to stick with it every day from now on. Thank you
Love this product!
I originally purchased this because I have Crohn's and my magnesium and potassium are always really low when I have blood work done. Within the first few days of taking this I was surprised at how much better I was sleeping, I'm not constipated anymore, my heart rate isn't racing, and my fatigue is noticably better and I'm not as tired the next day. I did not realize how much was affected by my low magnesium. I definitely will be repurchasing in bulk in the future. Also, I recently purchased 4 other items and have high hopes that they will aid me in my health journey. *I would like to add that, for me personally, I couldn't take 2 capsules together even with food, because it upset my belly, so I take one in the morning and one in the evening/night with food*
Great!
I have allergies and many products on the market does not work for me. Mighty Mag, I have had no problems.