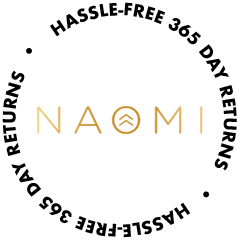 Happiness Guaranteed!!!
Your happiness is our #1 priority. That's why our products are backed by our rock solid 365-day guarantee. If you have a problem, we will solve it. Refund it. Reship it. Whatever it takes. We're here for you. Happiness. Guaranteed.
Frequently Asked Questions
How long before I can expect to see results?
The scientific research indicates that the ingredients in JointAdapt start to significantly improve joint comfort and flexibility in as few as 5 days, with optimal benefits experienced after 30 days of continuous use.
How does JointAdapt help to renew joint cartilage and relieve pain?
This clinically researched formula combines two powerful ingredients, each working in different ways to support joint health and comfort. ApreFlex® is a patented plant extract that supports healthy joints and has been shown to significantly reduce discomfort and improve physical function, flexibility and range of motion. And UC-II® undenatured type 2 collagen works in the gut to minimize the inflammation that causes aches and discomfort while helping to maintain the cartilage that is a key part of joint structure.
Should I take this every day or only when I'm feeling discomfort?
Like most nutritional supplements, JointAdapt will take time and consistent use to build up in your system in order to achieve maximum effectiveness. In one clinical study participants suffering from knee discomfort showed significant improvement in joint function after 30 days of daily use. For best results, consistently take 1 capsule daily.
Reviews
Joint adapt has helped me walk a little after I got off of statin
And on your citrus bergamot!
so thankful
i had a crunchy left knee going up the steps for over a year, which made me favor it by doing one step at a time, leading with my right leg. SO i thought i would give joint adapt a try. i have taken 1 b4 bed every day for 30 days & i now have a crunch free knee. it is unbelievable how fast this product made that crunchy sound go away & now i can go up the steps normal again. i just ordered another bottle so my knee & other joints stay healthy. thank you so much naomi for such quality products!
JointAdapt
WOW....What great product for my knees. I'm bone on bone. I have tried different products but this one is hands down. I just purchased 1 bottle to try out.
But it looks like I will be a repeated customer.
Thanks
Joint Adapt
I've been on Joint Adapt for about 3 months. I was really having severe joint pain. So far I'm loving this product. I'm feeling so much better and able to get back to some mild exercise and walking. I would highly recommend this product.
Works Wonderful
My knees feel so much better sense I started using joint Adapt they feel better than getting a shot in my knees THANK YOU!!!