Bergamot, a rare citrus fruit that only grows in a small region of Italy, has been prized for its proven and numerous heart-healthy benefits.
NAOMI Citrus Bergamot contains Bergamonte®, a patented form of citrus bergamont. Research led by Dr. Vincenzo Mollace, Professor of Cardiology at the Magna Graecia University produced extraordinary improvements in cholesterol, triglyceride and blood sugar readings on average just 30 days:*
---
Powerful Heart Healthy Improvements With Bergamonte® Citrus Bergamont
| | | |
| --- | --- | --- |
| | 500 mg | 1,000 mg |
| "Bad" LDL Cholesterol | -24% | -36% |
| "Good" HDL Cholesterol | +22% | +40% |
| Triglycerides | -29% | -38% |
| Blood Sugar | -18% | -22% |
Why is NOAMI Citrus Bergamot superior to other formulas?
NAOMI Citrus Bergamot features Bergamote®, the patented form of citrus bergamot that clinical research shows produces a dramatic improvement in cardiovascular risk factors such as LDL and HDL cholesterol, triglyceride levels and blood sugar levels.
This formula is also enhanced with a proprietary Resveratrol Blend for free-radical fighting antioxidant support as well as Olive Leaf Extract to inhibit the oxidation of LDL cholesterol to promote healthy blood pressure levels.
How long before I see results?
As with many nutritional supplements, it can take a little time to build up in your system to start producing results. The clinical research demonstrates significant improvements in cardiovascular risk factors as measured after taking citrus bergamot daily for 30 days.
Can I double the dose for better results?
Yes. While the standard daily dose of Citrus Bergamot is 500 mg of Bergamonte®, the clinical research shows that for people who might need a little extra help controlling cholesterol and other cardiovascular risk factors, a 1000 mg daily dose is both safe and effective.
Is NAOMI Citrus Bergamot gluten free?
Yes.
1 veggie capsule daily (standard dosing)
or 2 veggies capsules daily (enhanced dosing)

Preferably with food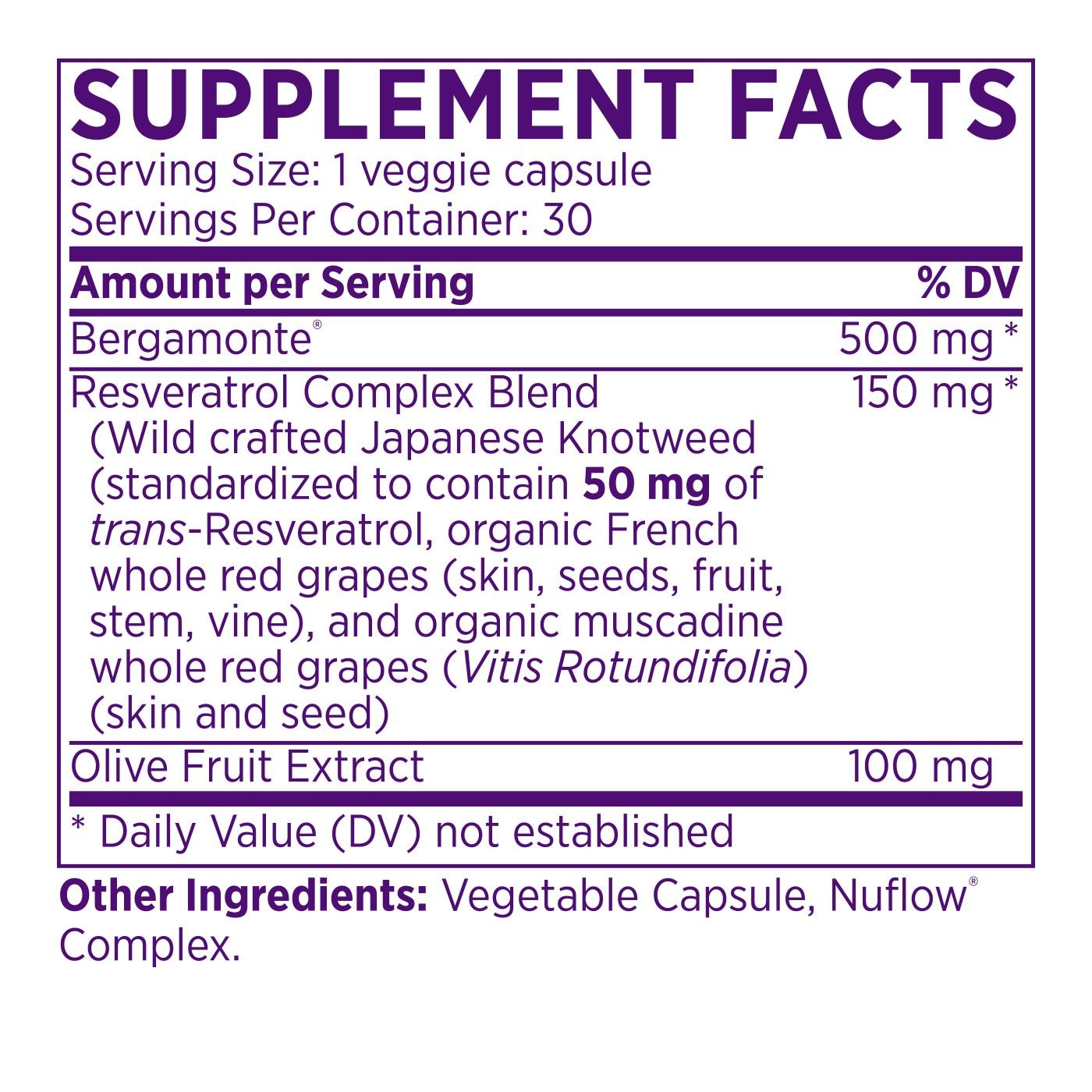 Whole—body Wellness
YOU CAN TRUST
NATURAL INGREDIENTS
LAB TESTED
365-DAY MONEY BACK GUARANTEE
FREE SHIPPING ON US ORDERS OVER $75