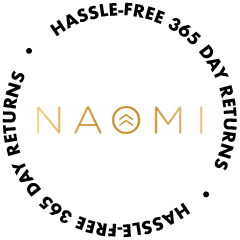 Happiness Guaranteed!!!
Your happiness is our #1 priority. That's why our products are backed by our rock solid 365-day guarantee. If you have a problem, we will solve it. Refund it. Reship it. Whatever it takes. We're here for you. Happiness. Guaranteed.
Frequently Asked Questions
How is NAOMI Activated Vitamin D different from other Vitamin D products?
To enjoy all of the benefits vitamin D can provide, you not only need to get enough of it, but it also needs to be properly absorbed. The mistake millions of vitamin D supplement buyers make, is ignoring the critical role the essential mineral magnesium plays in vitamin D absorption.

Simply put, the bioavailability of vitamin D depends on magnesium. The enzymes in the liver and kidneys that enable vitamin D metabolism can't work without sufficient amounts of magnesium to draw upon.

And research shows that up to 50% of adults are magnesium deficient.†

So, in order for a vitamin D supplement to provide the full benefits, it must include a research-based dose of magnesium as well.

What is the difference between vitamin D3 and vitamin D2?
There are different compounds of vitamin D, such as D2, which is derived from a plant source and D3, which is from an animal source. Vitamin D3 is the form of vitamin D your body naturally makes when exposed to sunlight.

How long before I see results?
Like many nutritional supplements, it can take some time for vitamin D to build up in your system. Much of the research demonstrating the wide variety of health benefits vitamin D can provide is based on research conducted over a 3-4 month period of time.

What are the key ingredients in NAOMI Activated Vitamin D?
NAOMI Activated Vitamin D is formulated with a potent 5,000 IU dose of vitamin D3 (as cholecalciferol), the natural form your body produces in response to sunlight. This formula also contains a research-based dose of 250 mg of magnesium (as dimagnesium malate and magnesium bisglycinate) to both ensure that the vitamin D is properly absorbed and to provide a wide range of additional health benefits including relief from muscle tension and spasms and improved sleep quality.

Is NAOMI Activated Vitamin D vegan and gluten free?
All of the ingredients in NAOMI Activated Vitamin D are both vegan and gluten free though the product has not been certified as gluten free by the manufacturer for those with severe issues with gluten.

Reviews
I take the vitamin faithfully twice a day. I take several other of your products also. I am not sure what I am suppose to feel with the vitamin D. Basically I feel better with all of them and I will continue to do so.
So far, so good.
Hoping to improve my health with Vitamin D and this had the best reviews by far.
Felt like a champ taking this supplement…
NAOMI Activated Vitamin D (50% off)