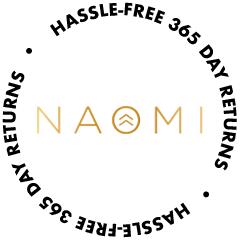 Happiness Guaranteed!!!
Your happiness is our #1 priority. That's why our products are backed by our rock solid 365-day guarantee. If you have a problem, we will solve it. Refund it. Reship it. Whatever it takes. We're here for you. Happiness. Guaranteed.
Reviews
High Fiber Prebiotic Powder
I use just one small serving of this daily mixed into my morning coffee. It mixes well and is tasteless but best of all it has helped me become regular. It is, in my opinion, far more effective and healthier than the big name products which are full of harmful sugars etc. This product is phenomenal!!
A must have
Love this stuff, I'm so regular now and I never have stomach issues. I put it in my coffee every morning. No taste so you really could put it in anything which is so helpful. Naomi's products DO just what she says, keeps you healthy. I would never be without this product. Thanks for all your hard work on bringing your customers like me , clean and healthy products for LIFE.
Good stuff
Made a positive change in my digestion.
AMAZING!!
I've always had trouble with constipation throughout my life, since I have been using this prebiotic powder I am so regular now its amazing! I can't believe how well this product works. I suffered with this problem for years and was always stressed out about it. This product has really changed my life for the better! Please never stop making this Naomi;) Thank you!