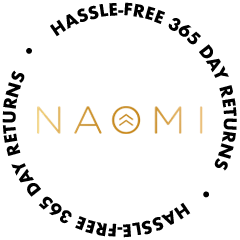 Happiness Guaranteed!!!
Your happiness is our #1 priority. That's why our products are backed by our rock solid 365-day guarantee. If you have a problem, we will solve it. Refund it. Reship it. Whatever it takes. We're here for you. Happiness. Guaranteed.
Frequently Asked Questions
What are the most common types of collagen?
Collagen is an extraordinary protein that offers many positive benefits. There are 16 different types of collagen with each type offering different benefits for our hair, skin, nails, bones, cartilage and joints.
Type 1 and 3 collagens are the most prevalent within our bodies. Both of these types of collagen support healthy and youthful-looking skin, as well as strong nails and bones.
Collagen types 1 and 3 increase your skin's elasticity to minimize wrinkles.
Another benefit of collagen types 1 and 3 is that they stimulate healthy hair growth, allowing us to enjoy a thicker and shinier mane.
These collagen types also help strengthen bones and nails.
Type 2 collagen is less prevalent within our bodies, but it offers great benefits by promoting joint and cartilage health!
Why is resveratrol included in this healthy skin supplement?
Resveratrol is a potent antioxidant that protects and rejuvenates skin in a wide variety of ways. Its ability to neutralize dangerous free radicals helps negate environmental influences while protecting the skin from UV damage. Resveratrol works at the cellular level in order to fight the process of aging by stimulating healthy cell proliferation.
By helping to combat inflammation, resveratrol helps to minimize redness and improve overall skin texture. Resveratrol has also been shown to help hydrate skin to keep it from drying out.
Are collagen capsules superior to collagen powder?
Deciding whether to take a collagen supplement in capsule or powder form is primarily a case of personal preference. But, either delivery method will only be as effective as the quality and quantity of the ingredients contained in each formula.
Some find capsules to be a quick and convenient way to take a collagen supplement, while others find it easier to just stir a scoop of powder into their favorite beverage. Also, depending on the specific type of collagen peptide, a full serving in capsule form may require taking more than the two capsule daily dosage of Ultra Collagen Renew.
Reviews
liked the product very much
Can't Live Without Naomi's Collagen
I began taking collagen when my 38 year old daughter mentioned she was taking it- I mean if it could work for her certainly I could benefit. And lo and behold, now I couldn't let a day go by without it. I trust Naomi's products over all others due to the the organic ingredients and the trust I have in all of her products.
I Am Completely Hooked
I have been taking Ultra Collagen Renew for a few months now and I can't say enough about the great results it has given me. I also take astaxanthin and bergamot. I just ordered each on a renewable basis. Thank you Naomi. There are not many products out there that I trust. But I was willing to take a shot because I believe in you.
Great as far as I can tell
I've been using this product for a little over a month, my skin was already looking pretty good at 38 as I started doing a lot of other things to stay young (like taking Naomi's Astaxanthin), but one things for sure - I'm definitely not getting older! I feel the collagen is certainly helping slow, and maybe even, reverse the process. One thing I've noticed is less lines/ look of aging when I first wake up.
Great product! Hair and nails growing like crazy!