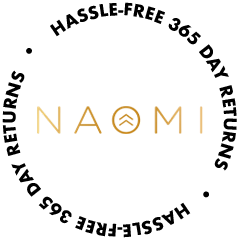 Happiness Guaranteed!!!
Your happiness is our #1 priority. That's why our products are backed by our rock solid 365-day guarantee. If you have a problem, we will solve it. Refund it. Reship it. Whatever it takes. We're here for you. Happiness. Guaranteed.
Ingredients trusted to ease feelings of stress, irritability & anxiety.†
NAOMI StressAdapt is a synergistic blend of four different anti-stress adaptogens to help you cope with the daily stresses and get more restful sleep.
Reviews
STRESS BE GONE
Naomi's products are amazing. The ingredients are powerful and clean. I love stress adapt. It makes my anxiety turn in to a pretty butterfly 🦋 then it Flys away.
It does seem to help with anxiety during the day, but still not sleeping soundly at night!
Happy with product
seems to be working well along with twice a week acupuncture for knee pains as well as stress
Stress adapt
I feel alittle better for sure . Would recommend it .