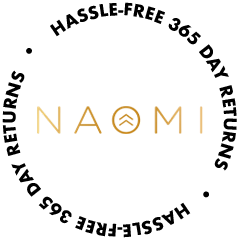 Happiness Guaranteed!!!
Your happiness is our #1 priority. That's why our products are backed by our rock solid 365-day guarantee. If you have a problem, we will solve it. Refund it. Reship it. Whatever it takes. We're here for you. Happiness. Guaranteed.
Ingredients trusted to ease feelings of stress, irritability & anxiety.†
NAOMI StressAdapt is a synergistic blend of four different anti-stress adaptogens to help you cope with the daily stresses and get more restful sleep.
Reviews
Good
Very happy with product and results
Less anxiety
I noticed I am more relaxed, especially at night. Also, I feel less anxious, I worry less, I am more laid back in the way I approach my daily life, like I take some distance, and do not rush on taking care of things. I am in my second bottle, and I am planning to keep on taking it. I also combine it with the Sleepadapt which I also love.