NAOMI Australian Keratin
For fuller, stronger, smoother and shinier hair
SKU: GLO1060-ACQ-6Bottles
Features 500 mg of Cynatine HNS® (soluble Keratin), a fibrous protein which promotes fuller, stronger, smoother and shinier hair with less shedding. Enhanced with 3 mg of Biotin (vitamin B7) to help thicken hair and strengthen nails, plus a Proprietary Resveratrol (50 mg) Blend to promote healthy hair follicles.*
What It Does
Promotes a fuller, thicker head of hair*
Strengthens hair and promotes healthy hair follicles*
Promotes smoother, less frizzy hair*
Helps repair hair damage*
Strengthens nails*
Free Shipping on US orders
Hassle-Free 365 Day Returns
Safe Checkout Guaranteed
100% happiness guarantee
Your happiness is our goal. That's why we formulate products with clean, potent and clinically-studied ingredients to ensure real results. But we understand that every body is different and if you're not happy, just let us know and we'll refund your money. Simple as that.
★★★★★
K. (Verified Buyer 05/08/2021)
I'm 50, have been on Keto for a year and my curly hair is thinning and frizzy now that I wear it natural. I also have nails that grow fast but are brittle and break easily. I was looking for a product help with thinning hair and strengthen nails. I've been taking at least 1 pill for about 45 days (some days I forget) but I'm noticing my hair looks thicker and my nails are less brittle and look very healthy. A friend, just out of the blue, commented just yesterday how thick and healthy my hair looked. I shall be ordering more if this product for sure!
★★★★★
Elizabeth Valdez (Verified Buyer 03/08/2021)
After just a few weeks of using the product my hair stopped falling and I can literally say that I'm starting to see lots of baby hair growing!!
★★★★★
Wren Williams (Verified Buyer 03/06/2021)
Can't live without it. I see a difference in shedding and hair growth.
★★★★★
Catherine Barron (Verified Buyer 01/26/2021)
I have using this product for about a year, and will continue to use this product because it works! I have very little hair fall out since using this product. I would highly recommend this product to anyone battling hair loss.
★★★★★
Debora Barbour (Verified Buyer 01/09/2021)
Before trying this product I had lost a lot of hair, eye lashes, leg hair everything in general. Slowly after taking Keratin my eye lashes are fuller, my hair is growing in and all my body hair is coming back to normal.
★★★★★
Paige B. (Verified Buyer 12/01/2020)
High quality product. Great results on hair thickness and overall skin improvement.
★★★★★
Debbie Nichols (Verified Buyer 10/29/2020))
True story! My stylist saw me after we were on lockdown from the pandemic, which is when I started taking the Keratin supplement. She gasped at how healthy and shiny my hair had become. I reordered.
★★★★★
Margaret Bechtel (Verified Buyer 10/13/2020)
I have been taking this product about 6 months and it has significantly stopped the shedding of my hair. It took about 2 months before I noticed a difference but it was well worth the wait. I literally have very little hair loss after taking this product.
★★★★★
Rebecca Gruber (Verified Buyer 10/05/2020)
I see some baby hairs - yay! Thrilled to have reversed or slowed some shedding.
★★★★★
Alita (Verified Buyer 09/25/2020)
I've been taking this supplement for months now and my hair has grown so much. My hairdresser said it's super noticeable and way thicker than ever. I highly recommend this product. Thank you so much.
Keratin
About 85-95% of your hair is made up of a protein called keratin. This dry, tough, fibrous protein is what gives hair, nails, teeth and the outer layer of skin strength and structure. However, the production of keratin declines as you age, which affects the hair's stability, flexibility, and function. Without healthy keratin production, hair can look dull and lifeless—and doesn't grow the way it should.*
The powerhouse behind our formula's effectiveness is a unique ingredient called Cynatine HNS® Keratin from Australia. Thanks to a revolutionary, patented processing technology, the keratin in Cynatine HNS is broken down into microscopic, solubilized protein peptides that bind to hair.*
Our formula not only replenishes your hair's keratin protein, it also helps your body amp up its own production of keratin. It encourages your body to produce it.*
Resveratrol
Our formula is formulated with a proprietary resveratrol blend to help reduce hair shedding and boost growth at the cellular level.*
Biotin
Our formula also includes a must-have for a healthy hair growth cycle: biotin. Without this essential B-vitamin, your body can't produce amino acids, which are converted to keratin.*
Plus, this formula includes enhanced servings of vitamin B6, niacin, pantothenic acid to support healthy hair.*
Take 1 capsule twice daily, preferably with food.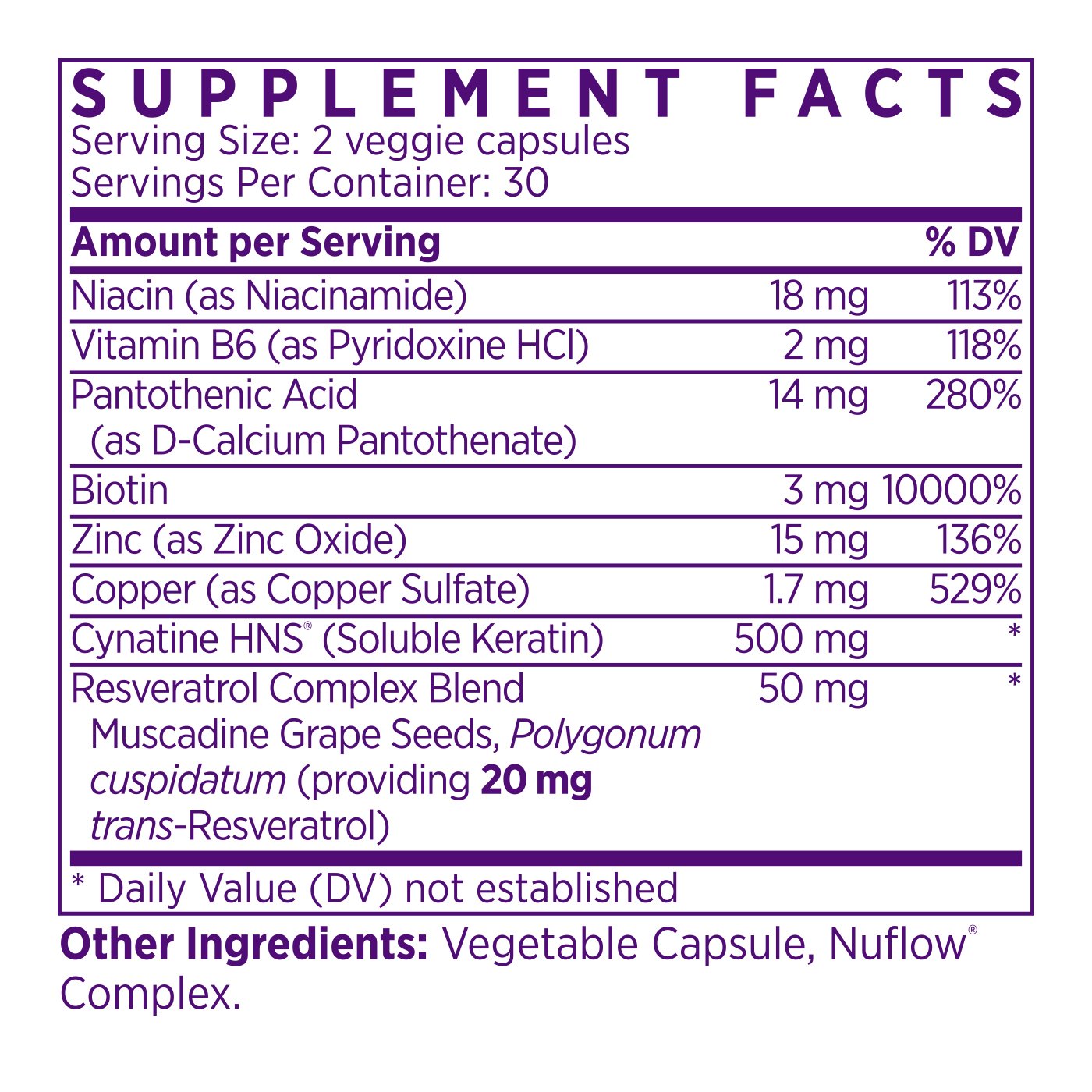 Whole—body Wellness
YOU CAN TRUST
NATURAL INGREDIENTS
LAB TESTED
365-DAY MONEY BACK GUARANTEE
FREE SHIPPING