Keratin
About 85-95% of your hair is made up of a protein called keratin. This dry, tough, fibrous protein is what gives hair, nails, teeth and the outer layer of skin strength and structure. However, the production of keratin declines as you age, which affects the hair's stability, flexibility, and function. Without healthy keratin production, hair can look dull and lifeless—and doesn't grow the way it should.*
The powerhouse behind our formula's effectiveness is a unique ingredient called Cynatine HNS® Keratin from Australia. Thanks to a revolutionary, patented processing technology, the keratin in Cynatine HNS is broken down into microscopic, solubilized protein peptides that bind to hair.*
Our formula not only replenishes your hair's keratin protein, it also helps your body amp up its own production of keratin. It encourages your body to produce it.*
Resveratrol
Our formula is formulated with a proprietary resveratrol blend to help reduce hair shedding and boost growth at the cellular level.*
Biotin
Our formula also includes a must-have for a healthy hair growth cycle: biotin. Without this essential B-vitamin, your body can't produce amino acids, which are converted to keratin.*
Plus, this formula includes enhanced servings of vitamin B6, niacin, pantothenic acid to support healthy hair.*
| | |
| --- | --- |
| | 1 capsule twice daily |
| | Preferably with food |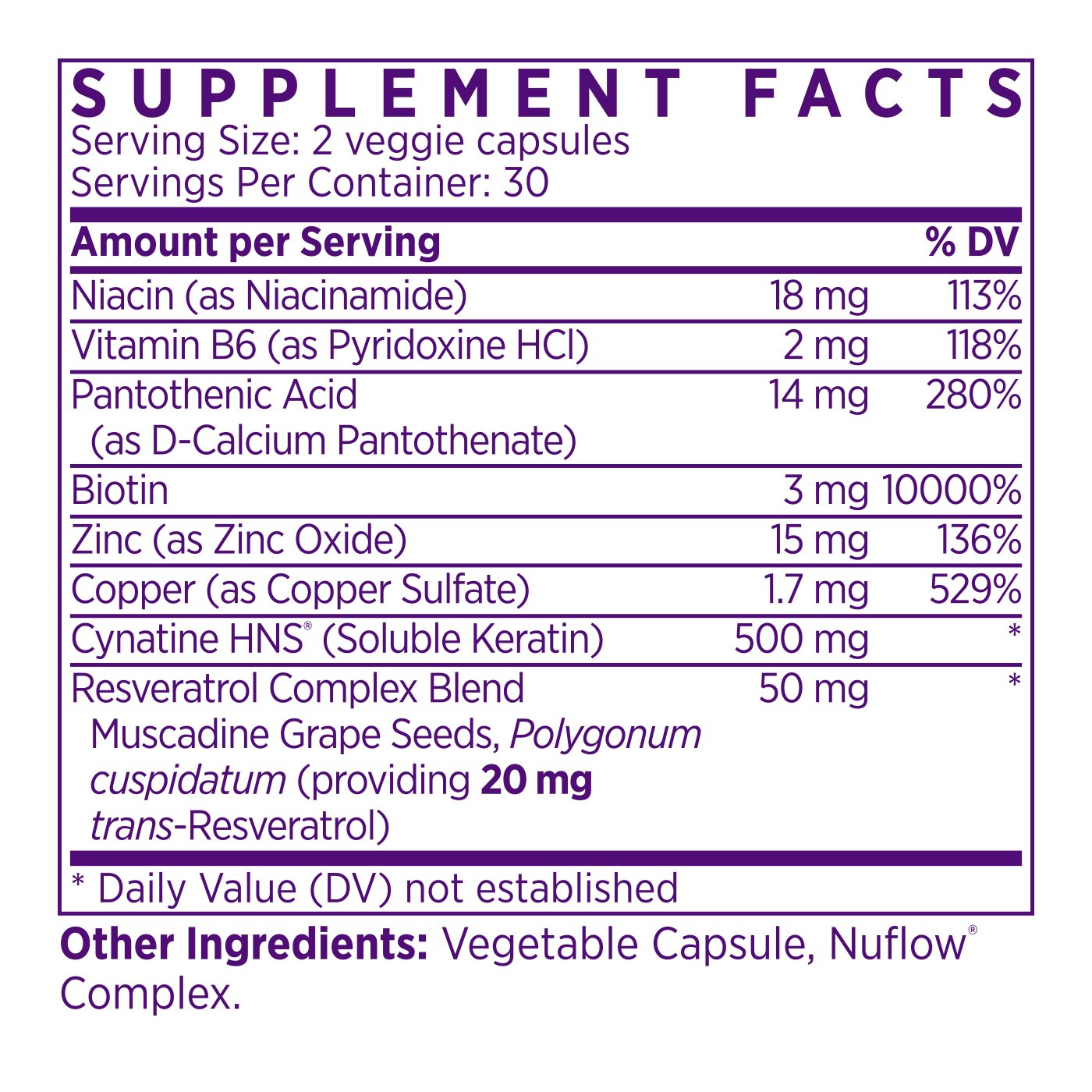 Whole—body Wellness
YOU CAN TRUST
NATURAL INGREDIENTS
LAB TESTED
365-DAY MONEY BACK GUARANTEE
FREE SHIPPING ON US ORDERS OVER $75
Reviews
Love this! Hair and nail doing great
LOVE THIS PRODUCT!
I've suffered from hair loss for a number of years. Started using this product about a year ago. Even though I've had cycles in which I still loose hair, this product has helped tremendously. Not only helps your hair grow, it strengthens your hair and oh! how it has helped with the frizz! UNBELIEVABLE!!! Highly recommend this product, but you have to give it time, and be patient : )
Love the product
I haven't been using the product too long but I think it is help thicken my hair. Thank you. 😊
Hate grey at 65
I think it is making my hair turn dark instead of grey
I've noticed new hair and am very happy about it please send more
Love this! Hair and nail doing great
LOVE THIS PRODUCT!
I've suffered from hair loss for a number of years. Started using this product about a year ago. Even though I've had cycles in which I still loose hair, this product has helped tremendously. Not only helps your hair grow, it strengthens your hair and oh! how it has helped with the frizz! UNBELIEVABLE!!! Highly recommend this product, but you have to give it time, and be patient : )
Love the product
I haven't been using the product too long but I think it is help thicken my hair. Thank you. 😊
Hate grey at 65
I think it is making my hair turn dark instead of grey
I've noticed new hair and am very happy about it please send more