Nearly 75% of American Adults Suffer From
Vitamin D Deficiency
The Vitamin D Mistake Millions of Health-Conscious People Are Making
---
IF YOU ARE TAKING VITAMIN D, DON'T MAKE THIS MISTAKE.
Low energy, aches and pains, brain fog, anxiety, mood swings, difficulty sleeping... do any of these sound familiar to you?
It is all too common to pass off vague complaints such as these as just a part of getting older, and think that there's not much you can do about it.
But there is a very good chance that you are suffering needlessly and compromising your immune system as well.
You see, each of these symptoms is scientifically linked to a common vitamin deficiency?*
The deficiency I'm talking about is vitamin D—and before you stop reading because you're sure that you're getting enough, please consider this: Over 40% of all Americans have low levels of vitamin D, and this deficiency rate is even higher among women.*
The good news is that vitamin D deficiency can be easily and inexpensively corrected, making it possible to revitalize your immune system and your health.
But it's vitally important to make sure you are not making the one crucial mistake millions of supplement buyers make that prevents them from enjoying the extraordinary health benefits vitamin D has to offer.
More on this in a moment, but first it's important to understand…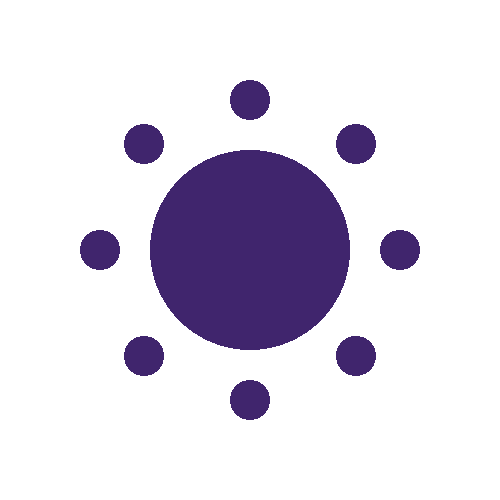 Why Vitamin D Deficiency so Common?
My dear friend Dr. Sanjay Gupta calls me a "wellness warrior" for my passion for uncovering natural solutions that help people like you solve their health problems over the past two decades. And many of these common problems are triggered by low levels of vitamin D.
You may know that the human body only produces vitamin D in response to ultraviolet rays.* And while our bodies are designed to spend most of our time outdoors, the majority of American adults are spending more and more of their time confined at home these days.
I live in the "Sunshine State" of Florida where I get plenty of direct exposure to the sun all year round. But
in many parts of the country, either because of cold weather or other circumstances, getting enough of the direct sun exposure needed for a healthy level of vitamin D isn't so easy.
And to make matters worse, public health officials have been waging war on the sun for decades, urging people not to go out in the sun without first slathering themselves in sunscreen.*
But the human body is designed to thrive on moderate, daily sun exposure. And sunscreens block vitamin D production.
Unless I'm spending a day at the beach with my family, I make it a point NOT to wear sunscreen to make sure I'm soaking up the sunlight needed to produce all of the health-boosting vitamin D that I can.
If you are not regularly getting enough direct exposure to the sun, then you will likely suffer from one or more of the…

5 Symptoms of Vitamin D Deficiency
Most people don't realize they're deficient in vitamin D until it's too late. This is because the symptoms are often subtle and can be easily confused with "normal aging." Here are 5 telltale signs and symptoms of vitamin D deficiency:
GETTING SICK OFTEN:
Keeping your immune system strong is one of vitamin D's most important roles. And these days it is more important than ever. Vitamin D directly interacts with the cells responsible for warding off pathogens. If you find you get sick often, low vitamin D levels may be to blame.
FEELING TIRED FREQUENTLY:
Tiredness and fatigue can have many causes, and vitamin D deficiency is near the top of the list.
MOOD SWINGS:
A depressed mood is a common sign of vitamin D deficiency. If you feel down or irritable often, there is a good chance your vitamin D levels are too low to support healthy mood balance.
WEAK BONES:
Vitamin D plays a crucial role in maintaining strong bones by supporting calcium absorption and bone metabolism. Many women with bone loss believe they need more calcium, yet very often they are actually deficient in vitamin D.
EVERYDAY ACHES & PAINS:
Muscle pain and weakness is a red flag that you have inadequate vitamin D levels in your blood. This is because your body's vitamin D receptors are present in the nerve cells that sense and ease pain.
The Wide-Ranging Health Benefits of Vitamin D
Vitamin D deficiency may be symptomless in its early stages, but don't let this fool you. As I advise my readers , it's important to catch it before it progresses, as it has been scientifically shown that vitamin D plays an important role in supporting:
✔ Overall longevity*
✔ Energy, mood and mental clarity**
✔ Strong, resilient bones*
✔ Healthy blood pressure and arteries*
✔ Optimal immune function*
✔ Muscle strength and comfort*
✔ Vision and macular health*
✔ Healthy breast tissue*
✔ Healthy pregnancies*
My advice to you is that if you have any nagging health concerns start increasing your vitamin D intake right away, and make plans to get your levels tested by your doctor.
How to Support Your Health with Vitamin D
There are two ways to get vitamin D in the amounts you need for optimal health:
1. One hour or more per day of direct sun exposure (without sunscreen)
2. Daily vitamin D supplementation
For many people, a vitamin D supplement is necessity to reach healthy levels, but it's important to take the right amount and the right form to get the benefits of vitamin D.
Which leads me too …
The Vitamin D Mistake Millions of Health-Conscious People Are Making
To enjoy all of the benefits vitamin D can provide, you not only need to get enough of it, but it also needs to be properly absorbed which is a major issue.
First, the benefits of sun exposure have been shown to decline with age, by as much as 30%.*
In addition, any gastrointestinal, liver or kidney issues, all of which tend to be more prevalent as we get older, can inhibit vitamin D absorption.
But perhaps most important, and the mistake millions of vitamin D supplement buyers make, is ignoring the critical role the essential mineral magnesium plays in vitamin D absorption.
Simply put, the bioavailability of vitamin D depends on magnesium. The enzymes in the liver and kidneys that enable vitamin D metabolism can't work without sufficient amounts of magnesium to draw upon.
And research shows that up to 50% of adults are magnesium deficient.*
So if your vitamin D supplement doesn't also include a research based does of magnesium, then you are wasting your money and locking vitamin D's ability to protect and rejuvenate your health.
The Superior Vitamin D Supplement I Developed
In researching the available vitamin D supplements, I was deeply disappointed by how many low quality products are readily available in discount stores and online. Few contain the ideal dosage and form of vitamin D, and even fewer contain beneficial and essential amounts of magnesium to promote proper absorption so you can enjoy all of the powerful health protections vitamin D can provide.
So to solve this critical issue in a way that is both convenient and affordable for you, I created NAOMI Activated Vitamin D.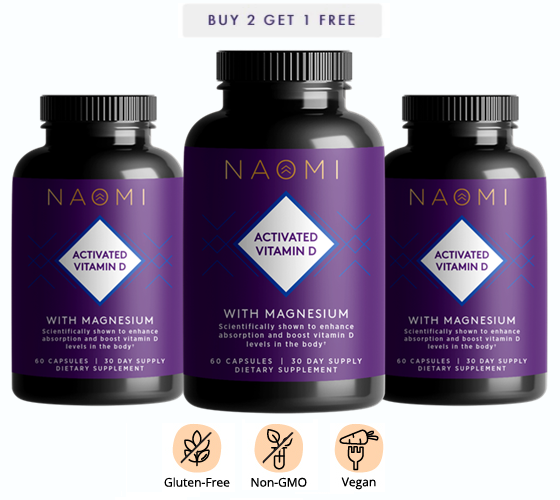 My goal in creating NAOMI Activated Vitamin D is to offer a truly effective vitamin D supplement of superior purity at an affordable price, so that no one has to suffer the consequences of vitamin D deficiency.
So if you're looking for a pure, high quality supplement that provides a scientifically researched formulation and the proper dose to achieve optimal vitamin D levels and peak health, this is the product for you.
Here's why NAOMI Activated Vitamin D is a superior solution:
D3 Potency: It's formulated with a potent 5,000 IU dose of vitamin D3 (as cholecalciferol), the natural form your body produces in response to sunlight.
Magnesium for Health Benefits and Absorption: The bio-availability of vitamin D is dependent on sufficient magnesium. Any vitamin D supplement without magnesium will not work as well, or perhaps not at all. This formula contains a research-based dose of 250 mg of magnesium to both ensure that the vitamin D is properly absorbed, and to provide a wide range of additional health benefits, including relief from muscle tension and spasms and improved sleep quality.* And remember, up to 50% of adults are magnesium deficient.
Convenience: The entire daily dosage of 5,000 IU of vitamin D3 and the 250 mg of magnesium comes in an easy-to-swallow veggie capsule taken twice per day.
Safe and Effective: It's made in a state-of-the-art, FDA-inspected U.S. facility located in New Jersey to meet the stringent standards of U.S. Pharmacopeia (USP) for quality, purity and potency.
Satisfaction Guaranteed: NAOMI Activated Vitamin D comes with an amazing 365-day return policy. If you are not satisfied for any reason, simply return it for a 100% refund – up to one year after purchase. So there's truly no risk to you!
Get NAOMI Activated Vitamin D
BUY 2, GET 1 FREE + FREE U.S. SHIPPING
Taking NAOMI Activated Vitamin D daily is a great way to boost your vitamin D levels to promote:
✔Optimal immune function
✔Strong, resilient bones
✔Physical energy and mental clarity
✔Healthy blood pressure and arteries
✔Balanced mood
✔Muscle strength and comfort
✔So much more!
PLUS 100% happiness is guaranteed with my 365-day return policy. Take NAOMI Activated Vitamin D every day as suggested. If you're not fully satisfied, we'll give you your money back. No questions asked.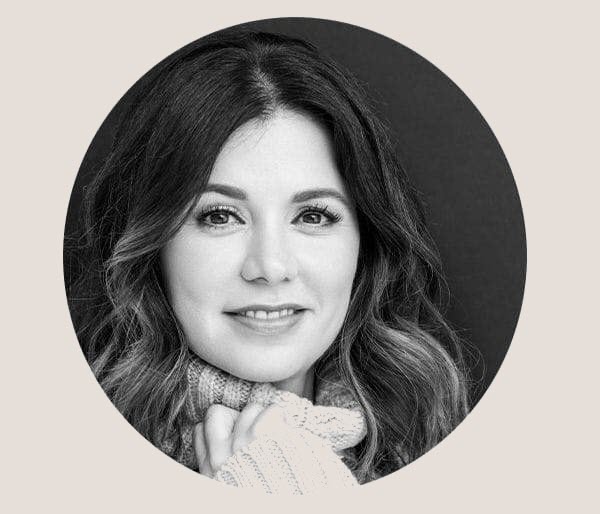 Naomi Whittel was born in Switzerland, educated in the U.S. and for over 20 years has been exploring the world to uncover the most potent and effective natural health solutions on earth. Named by Prevention magazine as a leading innovator in the natural products industry, she is a fierce advocate for empowering women to take control of their health and the health of their families. Naomi is the founder of Reserveage Nutrition, has served as CEO of TwinLab, and is the author of Glow15, the New York Times best-selling book on diet and healthy lifestyles, as well as High Fiber Keto. An avid fitness enthusiast, Naomi is the mother of four children.
All contents Copyright 2021 Naomi Whittel Brands. All rights reserved. Republishing of Naomi Whittel Brands content without written authorization is strictly prohibited.
†Testimonial results not typical. The information contained above is for general consumer understanding and education, and should not be considered or used as a substitute for medical advice, diagnosis or treatment. This product is not an alternative to any prescription drug. If you are currently taking a prescription drug, consult your doctor before making any changes. These statements have not been evaluated by the Food and Drug Administration. This product is not intended to diagnose, treat, cure or prevent any disease.