Drop up to 2 pant sizes in 12 weeks

SUPPORTED BY RESEARCH
This content is fact checked. There is published research supporting this article.
Burn Excess Belly Fat the Easy, Healthy and Scientifically-Proven Way
---
When it comes to finding an approach to eating that's healthy and sustainable, the Mediterranean diet checks all the boxes.
We look at the women in this region of the world with wonder for their ability to make staying trim and looking vibrant effortless. Their journey through aging seems to bear little resemblance to the battles we wage with our weight and body shape—especially our belly, hips and thighs. 
And this is not just a vanity issue. Modern science has shown us that abdominal fat is the most dangerous type of body fat due to its known cause-and-effect connection to serious health issues including:* 
Cardiovascular problems
Metabolic syndrome
Blood sugar imbalance
Inflammation
While moving to the Mediterranean, where following a fat-burning, plant-based diet as a way of life may not be in your future, you can still lose stubborn midsection fat and transform your body for good with four powerful fruit extracts inspired by the Mediterranean diet and shown to burn this dangerous type of fat. 
In fact, this belly fat burning foursome can help you drop up to 2 pant sizes and nearly 10% of your body fat in just 12 weeks!
And this is just the beginning. Keeping these extracts as part of your daily diet can help you burn even more body fat over time and help keep it off.
And I can't wait to share with you this proven way to trigger your body to release this stored fat for good no matter how many times you've tried in the past.  
I'm Naomi Whittel, New York Times bestselling author and health advocate with an insatiable curiosity for the healing power of nature. As a wellness explorer, I've traveled the world to experience the potent plants, fruit and extracts their people rely on to stay in shape and preserve their vibrant health. 
I love to experience these "miracle foods" through their culture, but what really excites me is meeting with local scientists to understand how the powerful plant-based compounds hidden within can fire-up metabolism, burn fat and boost weight loss.   
And in the case of the four body-shaping fruit extracts I mentioned earlier, I was amazed to discover that they have the power to melt away dangerous body fat by increasing a type of good-for-you "skinny" fat. Yes—there's a difference!  
Dangerous body fat vs "skinny" body fat 
Not all body fat is created equal. Just as there are good dietary fats that improve health and bad, unhealthy fats, there's also "good" and "bad" body fat.
Brown fat supports your slim-down efforts, while white fat can sabotage your weight and figure. 
| | | | |
| --- | --- | --- | --- |
| Body Fat Type |  Location | Function | Healthy or Harmful |
| White Fat | Plentiful throughout the body and is often concentrated in the midsection | Stores energy and lipids (triglycerides) and produces hormones | Harmful in high levels, because it can increase cardiovascular and other health risks |
| Brown Fat | Found in the upper torso, shoulders and around the vertebrae | Converts white fat into brown fat | In high levels, supports a healthy metabolism and converts fat to energy |
 Source: WebMD
White fat is dangerous when it accumulates, because it threatens heart health.* In women, white fat is mostly found around the hips, thighs and breasts…that is until our mid-40s when it starts to redistribute and head straight for our abdomens. This excess belly fat is associated with major health threats that affect millions of women.*
Brown fat is the type of fat you want—yes, really! I refer to brown fat as "skinny" or "thin" fat cells, because they're built to incinerate white fat and convert it into energy that your body can use to generate heat, support metabolism and promote overall good health.* 
Brown fat is the secret to burning excess fat, because it contains uncoupling proteins (UCPs) that help regulate fat breakdown. In fact, scientists believe they may hold the secret to unraveling the obesity problem.* 
The Bottom Line: The more brown fat you have, the more excess white fat you can burn!
Burn more, store less with inspiration from the Mediterranean
The easiest and most convenient way to flip your body fat ratio from the type that stores to the kind that burns is to load up on a unique set of clinically backed slimming fruit and plant extracts that break down and convert excess body fat into energy.
I was in awe when I discovered that these nutrients can actually act as copycats of the Mediterranean diet by targeting abdominal fat stores and helping balance blood sugar levels—leading to weight and fat loss where it matters most—your midsection! 
In a double-blind, placebo-controlled study, overweight participants took a combination of 4 fat-burning extracts daily for 12 weeks. Incredibly, researchers noticed a steady drop in body weight and waist-to-hip ratio throughout the study.
But the most dramatic results were at the end of the study when they discovered an average decrease in body fat percentage of 9.7% and a loss of over 5 pounds. And on average, participants' free fatty acid metabolism, a measure of the breakdown of fat stores for energy, increased by an incredible 329%.*
With these amazing results in mind, let's now take a closer look at the ingredients and their impressive science…
This is the exact citrus combination that melts "belly fat bulge"
Scientists know that of the hundreds of varieties of fruit found throughout the world, citrus fruits have especially profound benefits on heart health, fat reduction and weight control.
Grapefruit, blood orange and sweet orange varieties contain flavones so powerful that researchers consider citrus to be an untapped weapon in the fight against fat accumulation.*  
In a study conducted by researchers from Massachusetts General Hospital in Boston and Hebrew University of Jerusalem, a citrus chemical called naringenin was found to activate certain proteins that cause the liver to break down fatty acids.*  
This is the same metabolic activity that occurs during intermittent fasting, which is a key element of the keto diet and has been shown to promote weight loss!
Energizing guarana seed extract actually increases the slimming power of citrus!
The benefits of this potent combination of citrus polyphenols greatly increased when combined with low-dose caffeine from guarana seed, a fat-burning fruit extract known for boosting energy and metabolism naturally.
Guarana extract comes from the seeds of this potent plant and is high in antioxidants and energizing compounds shown to increase caloric burn, even when you're at rest.*
The International Journal of Phytotherapy and Phytopharmacology reported that the unique blend of citrus flavones and guarana seed caffeine promoted lipolysis—the breakdown of stored fat which can contribute to heart health issues.
Not only does this powerful blend help improve body composition, it's good for your heart and blood sugar too. 
Studies revealed that the multitude of active polyphenols in these 4 ingredients helped support balanced blood sugar levels and inflammatory proteins in the body. And these polyphenols helped increase glutathione, the body's master antioxidant.*
Remember the uncoupling proteins (UCPs) I mentioned earlier – the proteins that transform unhealthy white fat into fat-burning brown fat when activated?
Well, this synergistic blend of citrus and guarana seed extracts can activate this process to increase metabolic efficiency and help you burn fat as energy instead of storing it.
The trade secret that can help you drop up to 2 pant sizes and lose over 2.5 lbs of body fat 
The exact ratio of grapefruit, sweet orange, blood orange and guarana extracts studied and shown to be clinically effective is so unique that it's a patented trade secret I call the Mediterranean Fat Burner Blend.
Backed by 10 years of research and gold standard clinical studies, this synergistic blend of ingredients is shown to deliver impressive metabolism-boosting benefits.
As indicated in these clinical studies, this Mediterranean Fat Burner can help you lose over 2.5 lbs of unhealthy body fat…the equivalent of 2 full pant sizes!
Not only can it improve body composition, it also promotes heart health and supports balanced blood sugar levels.
That's losing fat the healthy way!
Shed dangerous abdominal fat and trim your waistline
Using this patented trade secret, I created NAOMI Mediterranean Fat Burner. Never before has it been this easy to shrink harmful midsection fat, boost metabolism and noticeably reshape your waistline.
By directly targeting fat-storing white fat, this powerful body-shaping formula activates your metabolism to increase the amount of energy and fat you burn every day. And it works with just one veggie capsule a day! 
Each daily 900 mg serving of my Mediterranean Fat Burner features the exact dose and ratio of the citrus and guarana extracts that have been clinically shown to help:
Improve body composition and shape
Decrease midsection fat, including belly fat
Reduce body fat percentage
Support a healthy heart
Support balanced blood sugar levels
And with its concentration of citrus and plant polyphenols, flavones and energizing compounds, Mediterranean Fat Burner empowers you to trim your waistline, melt midsection fat and control your weight. 
But you also get so much more—quality, purity and value:
Features My Proprietary Mediterranean Fat Burner Blend
---
One daily capsule delivers 900 mg of my groundbreaking blend of grapefruit, sweet orange and blood orange extract, plus energizing guarana seed compounds, standardized to 20%. This ensures optimal potency and benefits from batch to batch. 
Manufactured to Strict Quality Levels You Can Trust
---
NAOMI Mediterranean Fat Burner is manufactured in a state-of-the-art, FDA-inspected facility right here in the United States. Unlike many supplements that come from questionable sources, you can rest assured that the potency and purity of this product meets my exacting standards.
Convenient, Affordable and Ships for Free
---
This amazing formula is available for as low as $25 per bottle for a one-month supply and ships to you for free! At this low price, you'll want to stock up to give your body the best chance of maximum fat loss.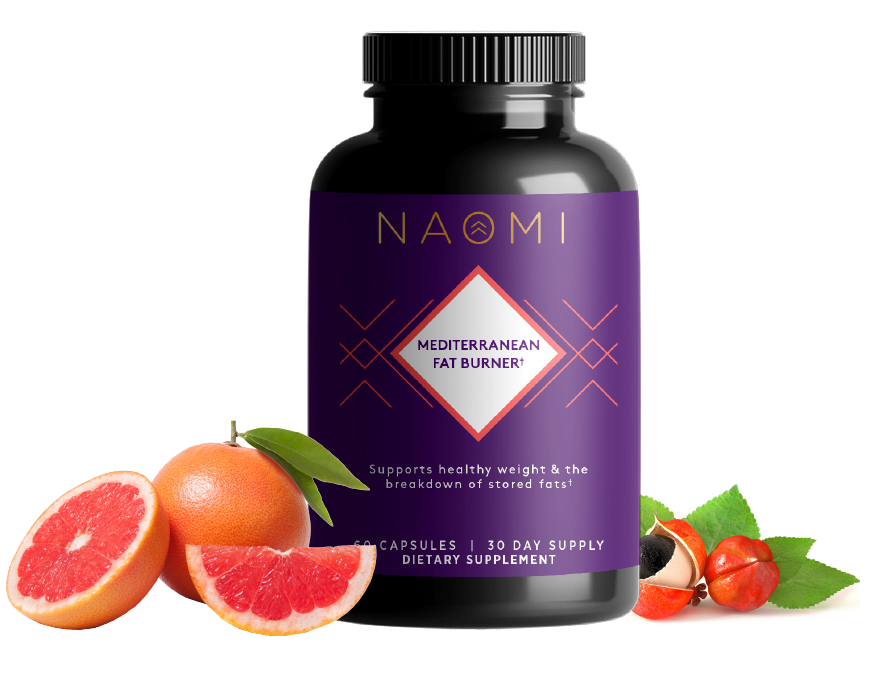 Take the Mediterranean size-down challenge: drop 2 pant sizes or your money back!
You know the struggle many of us have of putting on a favorite pair of jeans we haven't worn in a while, only to have them barely fit…uncomfortably snug. Did they shrink?, we would hope.
But in all honesty we know it's not a case of shrinking pants—but a waistline expanding and a body changing as a result of child-rearing, menopause and a slower metabolism (or combination of all three). 
Take Mediterranean Fat Burner as directed every day for 12 weeks and see for yourself how this clinically backed formula can help you burn excess fat especially around your midsection. You'll be amazed to see your waistline shrinking week after week!
And with my RISK-FREE 365-day happiness guarantee, there's no risk to you. Because if you are not satisfied for any reason, simply send it back for a full refund—up to one year after purchase. If you don't lose weight, burn belly fat or are not happy for any reason, we will refund your order—no questions asked.
I can't wait for you to try this unique fat-burning formula. I'm confident you're going to love your results—and your day shopping for new, smaller pants!