The Antioxidant That's
6,000 Times More Powerful Than Vitamin C
We've known for a while now that antioxidants are our most effective weapon against the cell-damaging free radicals that cause oxidation and inflammation throughout our bodies. Free radicals literally accelerate the aging process, making way too many of us feel "old" and tired during what should be the best years of our lives.
It's been more than 50 years since Nobel Prize winner Dr. Linus Pauling shook the medical world to the core with his breakthrough book, Vitamin C and the Common Cold which quickly became a bestselling sensation.

Finally, vitamin C got the attention it deserved, and millions of people began taking this powerful antioxidant to help build resistance and maintain good health.

And Dr. Pauling's work helped trigger the avalanche of antioxidant research that followed.

And while vitamin C remains a popular remedy to boost immunity and combat the common cold and other seasonal ailments, in recent years, groundbreaking research has shown astaxanthin (pronounced asta-zan– thin), a rare, deep red-colored carotenoid found in microalgae, to be perhaps the most powerful antioxidant available in nature:
100 times stronger than vitamin E
550 times stronger than green tea (EGCG)
800 times stronger than CoQ10
And 6,000 times stronger than vitamin C
Unlike most water-soluble antioxidants, which simply circulate throughout your bloodstream, astaxanthin is fat-soluble, which means it has the remarkable ability to actually integrate itself into every cell, tissue and organ in your body where it can neutralize health-robbing free radicals.
And it is especially effective at combatting a particularly damaging form of free radical oxidation called singlet oxygen.
To live, each of us relies on the oxygen we receive from the 25,000 or so breaths we take each day. But our oxygen-rich world carries the inevitable risk of oxidative stress, because over time, oxygen, when combined with sunlight, damages all organic matter.
Think of a nail that is exposed to the outdoor elements. At first the nail is smooth and shiny but, as the years go by, oxidation causes it to rust more and more until it eventually becomes rough and brittle.
Astaxanthin is the best antioxidant on earth at neutralizing the "rusting out" that results from this singlet oxygen oxidation process, and it is dramatically more powerful in this regard than other potent antioxidants*
1,500+ Peer-Reviewed Scientific Astaxanthin Studies
Just a small amount is clinically proven to:
Astaxanthin =
Greater Stamina + Faster Recovery
This may seem like a "no brainer," but research has shown that higher levels of physical activity are correlated with a longer lifespan and healthier old age.*
Being active—whether it's walking, lifting weights at the gym or keeping up with your kids or grandkids—helps our bodies detoxify and strengthens our immune system. And indeed, there is evidence that exercise has a measurable anti-aging effect on our cells.*
Here's a fun and important fact: Astaxanthin is what makes salmon's flesh pink, and it is also what gives salmon their seemingly supernatural endurance – the ability to swim upstream for up to 2,000 miles!
And today, incredibly convincing evidence indicates that astaxanthin can increase your strength and stamina, and help you exercise longer and feel less sore afterwards—and without any side effects.
Here's just a small sampling of the incredible results from the clinical research on astaxanthin:
Astaxanthin has been shown to help deliver oxygen and energy to the muscle cells that need it during exercise.**
Astaxanthin reduced levels of lactic acid by 28.6%.*
Astaxanthin increased muscle endurance in men, enabling them to perform 62% more knee bends while carrying a 90-pound weight!*
Astaxanthin improved the cycling performance of competitive male endurance cyclists, shaving two minutes off their time in a 20-kilometer trial!*
Astaxanthin even helped increase fat burn during exercise. Daily doses of 12 mg of astaxanthin resulted in a significant reduction in body fat percentage.*
So whether you are getting ready to run a marathon, a "weekend warrior," want to enjoy daily walks or just spend quality time with the kids doing fun activities, astaxanthin can help!
Why I Take a Triple Dose of Astaxanthin Every Day
I've been deeply involved in the world of healthy living and nutritional supplements for more than 20 years. And during this time I've had a hand in developing over 300 natural wellness and youth enhancing formulas.
And my goal has always been to provide premium-quality supplements at affordable prices.
And while most other providers of astaxanthin formulas seem content with offering a minimum level of 4 mg of astaxanthin, that level is much too low to get the full range of health benefits that astaxanthin can provide and you deserve.
With my NAOMI Extra Strength Astaxanthin I made sure to include a full research-based dose of 12 mg of pure, organic astaxanthin. That is triple the dose of many popular astaxanthin formulas, and it is the same dose used in many of the remarkable studies I have detailed above.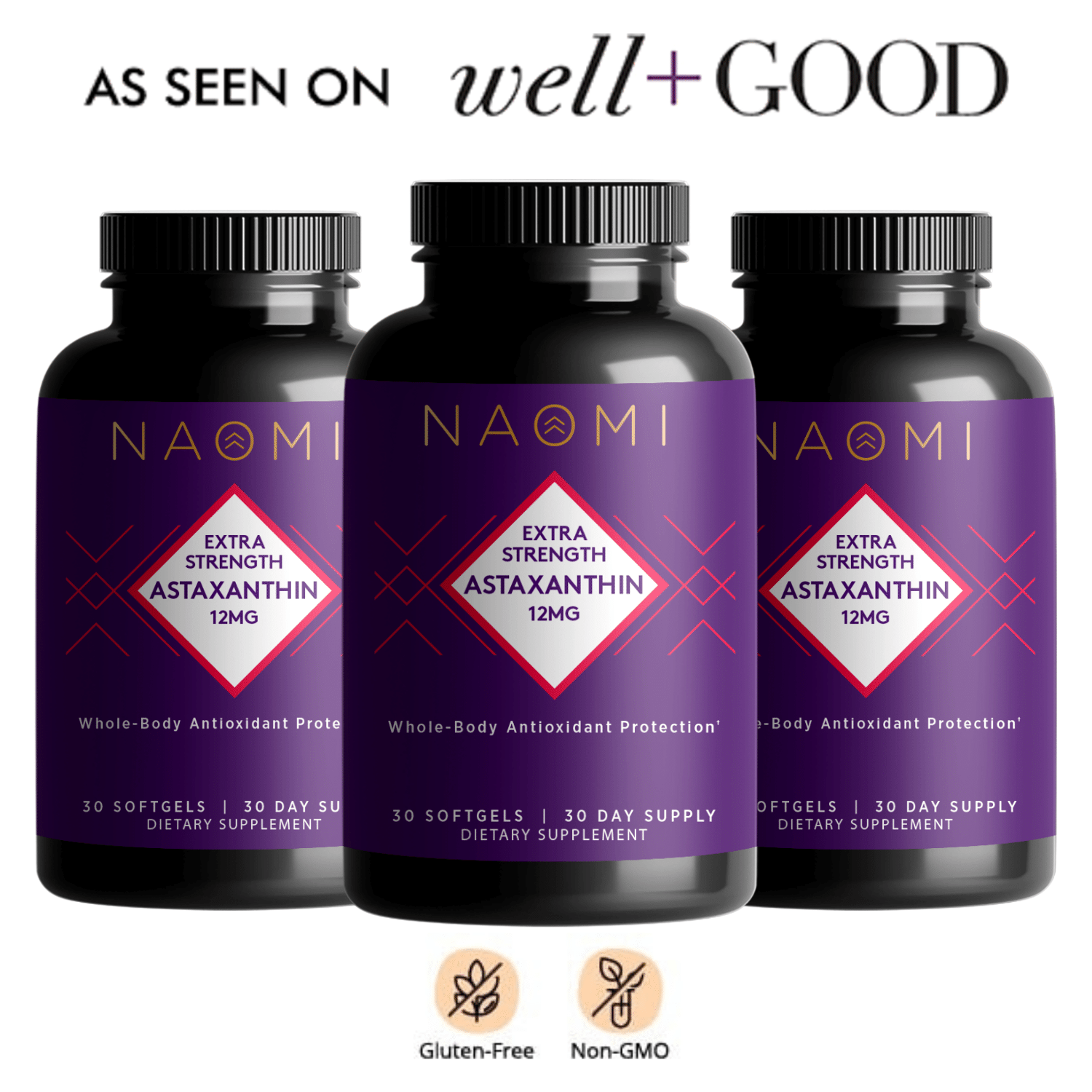 I encourage you to do your own research, but here are four essential reasons why I think you'll discover that NAOMI Extra Strength Astaxanthin is absolutely your best option.
Extra Strength 12 mg Dosage
NAOMI Extra Strength Astaxanthin contains 300% more astaxanthin per serving than most other astaxanthin supplements delivered in an easy-to-swallow one-per-day softgel. Research shows that the only way to get the high levels of astaxanthin shown to provide the full range of remarkable health benefits I discussed above is to take a supplement that provides 12 mg of astaxanthin daily. The typical 4 mg dose is just not enough to get the benefits you are looking for.
Superior Purity and Potency
Every batch of NAOMI Extra Strength Astaxanthin is analyzed by an independent laboratory and is subject to more than a dozen discrete tests to ensure the purity and potency of the astaxanthin, and to make sure it is free of solvents, allergens and toxins.
And whatever you do, don't waste your money on any synthetic form, which is made from petrochemicals and is far less potent!
Quality You Can Trust
NAOMI Extra Strength Astaxanthin is manufactured here in the U.S.A. in an FDA regulated facility. Product purity is my promise to you.
Affordable, Risk Free and Ships for Free
NAOMI Extra Strength Astaxanthin is priced as low as $20 per bottle. It's not available in stores but it ships for free and comes with an amazing 365-day guarantee! If you're not satisfied for any reason, you can return it anytime within one year of purchase for a full refund. Simple as that.
See For Yourself Risk Free With Our
365-Day Money-Back Guarantee

With more than 1500 peer-reviewed studies documenting its amazing health benefits, I hope you can see why astaxanthin is deserving of a place in your daily health regimen.
Once NAOMI Extra Strength Astaxanthin builds up in your body to clinically beneficial levels, you'll really feel it working. Here's what you can expect:
A big boost in your energy, stamina and muscle endurance
Less soreness and fatigue for faster exercise recovery
More comfortable and flexible joints with less pain
Support for healthy circulation and cardiovascular health
Improved mood, focus, memory and cognitive health
Support for overall eye health and relief from eye strain
Vibrant, youthful-looking skin and reduced dryness
Support for a stronger and more protective immune system
The longer you take NAOMI Extra Strength Astaxanthin, the better it works and the more benefits you may experience. And unlike typical astaxanthin supplements, NAOMI Extra Strength Astaxanthin is contains an extra strength 12 mg dose and comes in an easy-to-swallow one-per-day softgel. And you can try it without risk for a full 365 days.
Get NAOMI Extra Strength Astaxanthin
For As Low As $20 Per Bottle
+ FREE SHIPPING
About Naomi Whittel
Naomi Whittel was born in Switzerland, educated in the U.S. and for over 20 years has been exploring the world to uncover the most potent and effective natural health solutions on earth. Named by Prevention as a leading innovator in the natural products industry, she is a fierce advocate for empowering women to take control of their health and the health of their families. Naomi is the founder of Reserveage Nutrition, has served as CEO of TwinLab, and is the author of Glow15, the New York Times best-selling book on diet and healthy lifestyles, as well as High Fiber Keto. An avid fitness enthusiast, Naomi is the mother of four children.
All contents Copyright 2022 Naomi Whittel Brands. All rights reserved. Republishing of Naomi Whittel Brands content without written authorization is strictly prohibited.
†The information contained above is for general consumer understanding and education, and should not be considered or used as a substitute for medical advice, diagnosis or treatment. This product is not an alternative to any prescription drug. If you are currently taking a prescription drug, consult your doctor before making any changes. These statements have not been evaluated by the Food and Drug Administration. This product is not intended to diagnose, treat, cure or prevent any disease