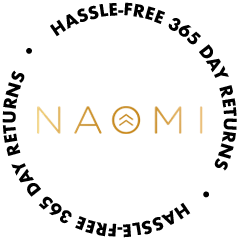 Happiness Guaranteed!!!
Your happiness is our #1 priority. That's why our products are backed by our rock solid 365-day guarantee. If you have a problem, we will solve it. Refund it. Reship it. Whatever it takes. We're here for you. Happiness. Guaranteed.
Ingredients trusted to promote thicker, stronger & lustrous hair†
NAOMI Australian Keratin features a daily, therapeutic dose of Cynatine HNS® scientifically proven to reduce hair shedding by nearly 50%.
Frequently Asked Questions
Why are keratin and biotin such a potent combination?
If your scalp is weak, hair simply cannot "anchor"—or hold its place within the membrane where skin and follicle meet. Studies show that this anchoring relies on the strong presence of a binding protein, collagen type 5.
And researchers have discovered that keratin protein can help stimulate collagen production, combat free radical damage and improve the strength of the anchoring hair membrane.
Studies show that biotin alone can promote nail health, while improving nail thickness and hardness. Biotin also serves a very important role in how our body breaks down and properly utilizes amino acids, the structural units that make up proteins. In fact, your body needs biotin to convert amino acids into the keratin protein.
So, biotin and keratin work in combination to strengthen hair follicles to reduce shedding, and to promote thicker, less brittle nails.
Why is solubility so important for getting results?
Keratin protein can only help strengthen hair follicles and reduce shedding if your body can absorb it. Intrigued by this challenge, a group of scientists went on a quest to create the highest quality, most soluble keratin – one that the body could break down easily and use to produce the protein that hair, follicles and scalp need.
They found this perfect keratin in a pure form in Australia that applies a revolutionary, now-patented process that breaks down and "solubilizes" the large protein compounds into tiny peptides for maximum absorption.
This one-of-a-kind keratin is Cynatine HNS®, a biologically active form of keratin protein that has been scientifically proven in scientific studies to produce measurable and visible improvements starting in as few as 30 days.
How long before I can expect to see results?
Due to its superior absorption, Keratin is the only nutrient shown in a gold standard, double-blind, human study to actually "press pause" on excess hair shedding.
Here are the extraordinary results from this study which included women between the ages of 40 and 71 who took this keratin ingredient daily for 90 days along with select, synergistic nutrients:
After 30 days… 16.9% improvement in hair shedding
After 60 days… 38.9% improvement in hair shedding
After 90 days… 46.6% improvement in hair shedding
And a significant decrease in excess shedding was not the only benefit. Participants who took this powerful ingredient experienced a 47% improvement in hair brightness and a measurable improvement in the strength of their hair as well as their nails.
Is Keratin non-GMO and gluten free?
All of the ingredients in NAOMI Keratin are non-GMO and gluten free though the product has not been certified as gluten free by the manufacturer for those with severe issues with gluten.
Reviews
Perfect for issues with thinning fragile hair
Great product, one of my favorites. Will recommend and order again.
Keratin
I'm amazed how fast and strong my nails are growing ,
Love it, have recommended to a lot of my friends
Very happy with the results!
It had made a big difference in my hair. Back to what it used to be!
I'm not sure why it's not working but my nails are not growing. I'm missing something else or I'm not absorbing.