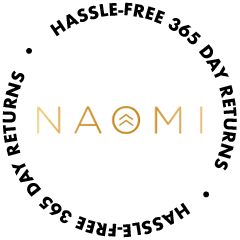 Happiness Guaranteed!!!
Your happiness is our #1 priority. That's why our products are backed by our rock solid 365-day guarantee. If you have a problem, we will solve it. Refund it. Reship it. Whatever it takes. We're here for you. Happiness. Guaranteed.
Frequently Asked Questions
How is NAOMI Turmeric + Resveratrol different from other Turmeric products?
This formula is a unique combination of two powerful antioxidants, turmeric and resveratrol, in clinically proven dosages to provide extraordinary antioxidant and anti-inflammatory benefits.

What is the difference between Curcumin and Turmeric?
Curcumin is found in the root of the turmeric plant and the curcuminoids derived from curcumin are the active ingredient in this formula in extract form.

How long before I see results?
Like with many nutritional supplements, individual results can vary. Typically it takes 4-8 weeks of daily usage for the antioxidants in this formula to build up in your body to provide the clinically proven health benefits.

Are there any side effects?
Turmeric and black pepper extract can cause digestive issues on occasion. If these issues persist for you, discontinue use and activate our 365-day refund guarantee for a full refund.

Is NAOMI Turmeric + Resveratrol vegan and gluten free?
All of the ingredients in NAOMI Turmeric + Resveratrol are both vegan and gluten free though the product has not been certified as gluten by the manufacturer for those with severe issues with gluten.

Reviews
Like the product
Since I have been taking this product I seem to notice less aches and pains
Life changing!
I was both skeptical and desperate and I am so glad I ordered this!! I have inflammation in my body from who knows what (trying to figure that out) and it causes me so much pain. I purposely stopped ibuprofen while starting these to see if there was any change and I swear I haven't taken any since! Thank you, Naomi!!!!!!! Also, I'm 35 years old for reference.
All your products are very satisfactory !
Amazing results
I heard about this product on a reliable website and based on the reviews I decided to take a chance to see if this would help with my knee pain. The results are nothing short of amazing, after taking it for one month my knee pain is gone! I have ordered several other products as a result of this and I'm very satisfied with all of them.
Great product
I have been taking Turmeric for a few years. This is a nice product since it also has resveratrol. It priced midrange but with sale prices, it is a very good deal.