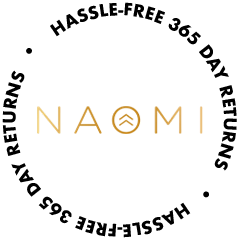 Happiness Guaranteed!!!
Your happiness is our #1 priority. That's why our products are backed by our rock solid 365-day guarantee. If you have a problem, we will solve it. Refund it. Reship it. Whatever it takes. We're here for you. Happiness. Guaranteed.
Reviews
Amazing
I first started trying Naomi with the harmony supplement. Although it did not end my hot flashes completely it has helped a little bit in that department but it's helped my overall mood immensely. I then tried nourished gut and had tremendous rapid results with that product. My confidence is so high with the quality of the ingredients and the promise of the products that I have changed all my supplements over to Naomi. I use keratin, sleep adapt, mighty MG, harmony and nourish gut along with raw energizer and collagen peptides. I've signed up for the convenience of AutoShip and I have to say that there is no product at this price point that could even come close to the quality of Naomi
Power Greens: Mixed Berry
Good stuff
I feel more energetic when I use this product
Best on the Market
I have tried several different power greens in the past, but this is the best I have found, both for the value and the ingredients. Great in my morning fruit smoothies. Now buying my second jar with many more to come.
Finishing up a similar product that I purchased previously and haven't tried my new purchase of Power Greens: Mixed Berry yet, but look forward to using it.