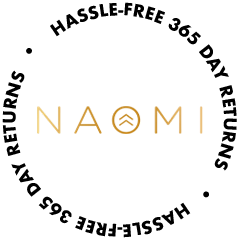 Happiness Guaranteed!!!
Your happiness is our #1 priority. That's why our products are backed by our rock solid 365-day guarantee. If you have a problem, we will solve it. Refund it. Reship it. Whatever it takes. We're here for you. Happiness. Guaranteed.
Frequently Asked Questions
What is the recommended daily allowance (RDA) of vitamin C?
The FDA's current vitamin C Recommended Daily Allowance (RDA) of a paltry 75 mg per day for women and 90 mg per day for men is, unfortunately, woefully outdated.
While science has clearly demonstrated that optimal levels of vitamin C can boost your immune system and help combat many other age-related problems, you are not likely to see many benefits at these anemic dosages.
Also, it is very important to note that studies strongly suggest that the body's ability to absorb vitamin C declines with age.* This is why a daily serving significantly higher than the current RDA is more important as you get older. The Linus Pauling Institute recommends a daily intake of at least 400 mg of vitamin C per day, and more under specific circumstances.*
What are the benefits of Vitamin C beyond helping protect against the common cold?
It has been nearly 50 years since Nobel Prize winner Dr. Linus Pauling shook up the medical world with his book Vitamin C and the Common Cold. It quickly became a bestseller and motivated millions of people to take more of this powerful antioxidant to help build resistance and maintain good health.
While taking extra vitamin C is now widely recommended during cold and flu season, more recent scientific research strongly indicates that it should be a part of your daily wellness routine—especially as you age.
A review of this extensive research on vitamin C gives you a good indication why:
A European study of nearly 20,000 adults found that the incidence of cardiovascular problems were 60% lower among those with the highest vitamin C blood levels versus those with the lowest.*
Another study found that daily intake of vitamin C reduced C-reactive protein (CRP), a notorious inflammation marker in the blood linked to heart issues—by an impressive 17% in just two months.*
A 2012 review of 29 clinical trials of vitamin C concluded that vitamin C supplementation brought about reductions in both systolic and diastolic blood pressure.*
A 20-year Japanese study of 2,000 adults found that those with higher serum vitamin C concentration had significantly lower risk of suffering from arterial issues in the brain.*
What makes Immunity Boost with vitamin C such a unique and potent formula?
This unique supplement features the powerful vitamin C and DHQ combination plus three more potent immune-supporting nutrients. Here's a look at the complete formula:
Vitamin C… 500 mg of non-GMO ascorbic acid to promote all of the extraordinary immune system and health benefits that vitamin C can provide.
Quercetin… Two sources of this powerful antioxidant, including DHQ, which not only aids in the absorption of the ascorbic acid found in vitamin C but provides a host of additional health benefits as well.
Zinc… The second most-abundant trace mineral in your body, zinc is present in every cell of your body, and it is especially critical for the development and function of immune cells.
Selenium… An essential mineral that functions as an antioxidant helping to neutralize free radicals and support overall health.
N-acetyl cysteine… This powerful amino acid-antioxidant helps support lung health and respiration.
Why are Vitamin C and dihydroquercetin (DHQ) such a potent combination?
Dihydroquercetin (DHQ) is a powerful flavonoid and is one of nature's most effective free radical fighters.
As a powerful ally against cellular breakdown, DHQ has been the focus of hundreds of studies spanning more than seven decades. It has earned an international reputation for its ability to promote a healthy inflammatory response** and support heart,* brain* and eye health.** Studies show it can even help support healthy arteries.*
And DHQ has been shown to dramatically enhance the beneficial effects of vitamin C.* It helps extend vitamin C's range of bioactivity so that it doesn't deactivate so quickly. It even helps regenerate vitamin C in the bloodstream and slows its elimination from the body.
By helping vitamin C last longer and work harder, DHQ lets your body soak up more of its powerful antioxidant benefits—not to mention you're also getting the considerable benefits of DHQ, too.
Reviews
Love Immunity Boost
My family have been taking Immunity Boost, love that it has a good combo of "good stuff" to keep our immune system strong!
Great product!
Very effective combination of ingredients had us on the mend in two days! We plan to always have some on hand!
Immunity Boost with Vitamin C
I am maintaining good health. Love the product
Immunity Boost with Vitamin C