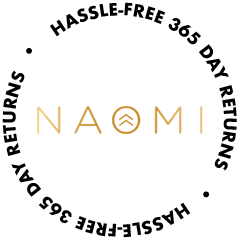 Happiness Guaranteed!!!
Your happiness is our #1 priority. That's why our products are backed by our rock solid 365-day guarantee. If you have a problem, we will solve it. Refund it. Reship it. Whatever it takes. We're here for you. Happiness. Guaranteed.
Ingredients trusted to activate your metabolism & balance blood sugar†
Every serving of NAOMI Berberine features an extra strength dose of purified Berberine, which has been validated by over 4,000 scientific studies to provide a wide range of remarkable health-boosting benefits.
Berberine HCI
A natural plant alkaloid that activates your metabolism to help balance blood sugar and burn fat.
LEARN MORE
For Even Better Results: Weight Loss Duo
Lose weight and reactivate your metabolism without stress & crash diets.
LEARN MORE
Frequently Asked Questions
What makes Berberine such a potent antioxidant?
Berberine has been shown to flip AMPK – your metabolic "master switch"– into action, turning on thermogenesis to encourage the body to burn more fat and help block the formation and growth of new fat cells** In other clinical trials, berberine was shown to decrease body mass index (BMI) and waist circumference significantly.*
By boosting AMPK activity with berberine, you can get your weight under control, reduce dangerous midsection fat, and combat harmful inflammation, giving your lipid and blood sugar levels a chance to stabilize. In fact, a widely prescribed medication for regulating blood sugar works by activating AMPK.
What specific health risk factors can Berberine help improve?
While this "super herb" has been used medicinally for centuries, only recently has modern scientific research demonstrated that berberine can improve insulin sensitivity, promote weight loss, fight inflammation, and support a healthy heart and immune system. Berberine has been scientifically shown to:
What is the best dose of Berberine?
The standard and most widely researched dose for Berberine is 1000 mg daily of Berberine HCI, the specific type of berberine contained in this formula. Some research indicates that increasing the dose to 1500 mg daily enhances the weight loss and fat burning benefits.
When is it best to take Berberine?
Since it is fat soluble, it is best to take Berberine with food that contains healthy fats. For a 1000 mg dose I recommended taking 1 capsule with breakfast and 1 capsule with dinner, though consuming some healthy fat with each capsule is more important for optimal absorption than the time of day it is taken.

How long does it take for Berberine to work?
Like most nutritional supplements, it takes some time for berberine to build up to in your body to deliver beneficial results. While individual studies vary, the most common benchmark used in the studies of berberine is 8 weeks.

Is NAOMI Berberine vegan and gluten free?
All of the ingredients in NAOMI Berberine are both vegan and gluten free though the product has not been certified as gluten free by the manufacturer for those with severe issues with gluten.

Reviews
This product works well with the combination of supplements I am taking to lower my blood sugar.
Excellent
I lost 10 pounds to date. I am delighted with Berberine. I have not had any tests to date, but I am sure my levels have decreased. I have more energy and stamina.
Don't really know what the product is sposed to do. Can someone tell me?
My overall cholesterol went from 248 to 191 in 8 weeks.
I've been taking bergamot and berberine every day for 8 weeks and with 2 changes to my diet I'm very pleased with my results. I stopped eating gluten and replaced high GI white jasmine rice with moderate GI brown basmati rice. I'll continue taking both and see what my results are over the next year. I'd like to get my blood glucose levels lower, I'm at 95 right now, hope to drop that number. Thank you Naomi.
(I do find I must take both supplements with food, but that's not unusual for me. I have a very delicate stomach.)