Can This "Miracle Superfruit" SHATTER America's Toxic Relationship With Bad Cholesterol?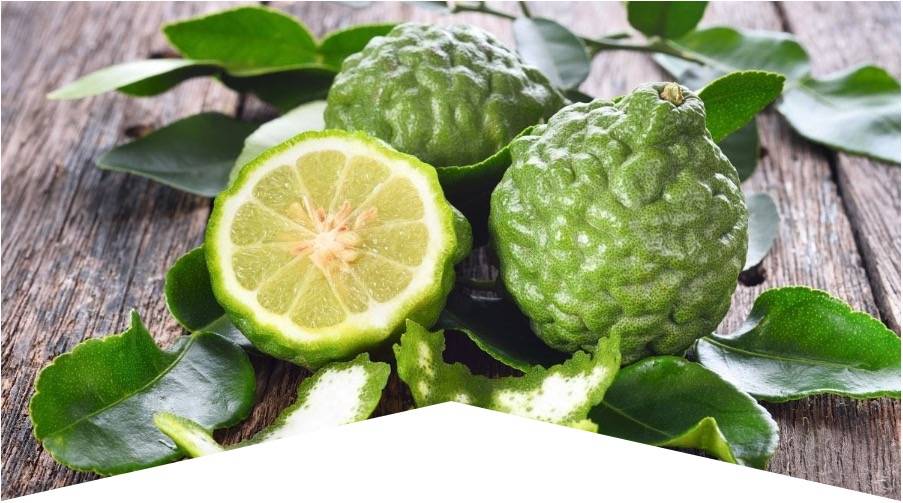 Deep within the fields of Calabria, Italy lies a citrus fruit that has single-handedly changed my life.


This is no exaggeration. I owe so much of my daily health & happiness to this single fruit not just due to its delicious scent & taste (being one of the main ingredients in my favorite earl grey tea), but because of its natural ability to produce powerful & extensive health benefits for the human body - especially in boosting overall cardiovascular health.


Specifically speaking, this fruit has the scientifically proven ability to:
Lower dangerous LDL cholesterol

Reduce artery-clogging triglycerides

Increase protective "good" HDL cholesterol

Enhance antioxidant support throughout the body

Enhance antioxidant support throughout the body

AND help balance blood sugar
That's right - this little fruit has the ability to achieve huge leaps in the world of cholesterol health. In fact, it is my belief that it will be the key to freeing America from the vice-grip of high cholesterol FOR GOOD.

So what's the name of this incredible superfruit?

It's called

Citrus Bergamot

.
THE BREAKTHROUGH RESEARCH REVEALING THE MAGICAL EFFECTS OF THE BERGAMOT FRUIT
When I journeyed to Calabria to learn more about Citrus Bergamot I met with my friend Dr. Elzbieta Janda who told me all about her clinical research demonstrating what the people there have been experiencing for generations: healthy cholesterol levels and arteries – despite having a diet rich in fat. Dr. Janda and her team believed that the reason for this is due to the bergamot-centered diet so many in the region have enjoyed for centuries.
So, being researchers true to their nature, they decided to put Citrus Bergamot through a rigorous standardized test.
They conducted a trial led by Dr. Vincenzo Mollace - Professor of Cardiology at the Magna Graecia University. In this trial the researchers gave participants 500 mg of Bergamonte®, a patented form of bergamot extract, every day for 30 days.
Simply put, the results were ASTOUNDING:
Harmful LDL cholesterol plummeted 24%

Good HDL cholesterol jumped 22%

Triglycerides declined 29%

Blood sugar levels dropped 18%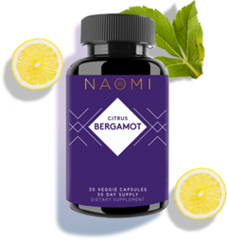 All in a matter of 30 DAYS

. A shocking discovery that is quite frankly shaking up the health world even now!
But that's not the only groundbreaking research done on this fruit!
Another batch of studies showed that the flavonoids (a specific type of polyphenol) found in bergamot can increase good HDL levels and reduce triglyceride levels in the liver.
Other research teams discovered that the compounds extracted from the peel act in a similar way to statins (a drug that's used to reduce cholesterol).
PLUS further research has revealed that Citrus Bergamot can even help trigger autophagy - the process that allows your cells to repair themselves and help keep you young - in various parts of the body, specifically in the skin and liver. There are a couple of ways to activate autophagy, but adding citrus bergamot to your diet is one of the few nutritional ways to do it!
And all without any of the unwanted side-effects associated with the cholesterol solutions doctors frequently recommend.


Science had shown what Calabrians had known and lived by for generations: The incredible, all-natural, health-boosting power of the simple Citrus Bergamot fruit.
WHAT CITRUS BERGAMOT MEANS FOR YOU
It's no secret… The cholesterol-induced heart health crisis has been a problem in our country for decades.


There are many different factors that have led us to this point: increased rates in obesity, lack of exercise, smoking, poor diet, etc. In fact, even when we live healthy, active lifestyles we can STILL be genetically predisposed to have high cholesterol in our bodies (something I personally dealt with in my late twenties). It's been reported that around 1 in 3 American adults are dealing with problematic cholesterol levels. Some researchers say even higher than that - around 50%!


That means that as many as

100 MILLION Americans

are dealing with the risks of having high cholesterol right this very moment. If that's not a crisis, I don't know what is!


And I can't tell you how many people write to me all the time expressing their frustration at not being able to find a natural, side-effect free way to address their cholesterol issues...


That's why I've constantly dedicated myself to being an explorer, optimizer and guide – searching the world for natural, health-boosting nutrients; partnering with the best scientific minds; and bringing to you solutions that

WORK

.
THAT'S HOW I CREATED NAOMI ITALIAN CITRUS BERGAMOT
As the scientific studies show, you can see life-affirming results -- lower LDL cholesterol, triglycerides and balanced blood sugar; plus, higher beneficial HDL cholesterol – in as few as 30 days.


NAOMI Italian Citrus Bergamot
features 500mg of Bergamonte® (the same formula extract used by Dr. Mollace in Calabria) which meets my highest standards for quality and purity – it's one of the few natural substances ever awarded a U.S. patent.


NAOMI Italian Citrus Bergamot
contains the equivalent of an entire bergamot orange - producing an incredibly potent 38% in polyphenolic flavonoids. This research-backed dosage comes in easy-to-swallow veggie capsules, so it's simple to double your daily dose should you seek a higher level of support.


NAOMI Italian Citrus Bergamot
is fortified with 150 mg of my proprietary Resveratrol Complex Blend, researched and selected for their anti-aging properties including Muscadine grape seeds and Polygonum Cuspidatum (standardized to contain 20 mg of trans-resveratrol)


NAOMI Italian Citrus Bergamot
is enhanced with 100 mg of Olive Fruit Extract, a compound that is found to inhibit the oxidation of LDL cholesterol, a trigger of artery damage.


My Citrus Bergamot formula is manufactured in a state-of-the-art, FDA-inspected facility right here in the United States to ensure strict quality levels you can trust. Unlike many supplements that come from questionable sources, you can rest assured that the potency and purity of this product meets my exacting standards.


Your health and well-being – both inside and out – mean everything to me. That's why I'm confident in saying that NAOMI Italian Citrus Bergamot is the best choice you can make in optimizing your cardiovascular health!
SO HERE'S MY CHALLENGE TO YOU
1:
Test your current cholesterol levels
2:
Take NAOMI Citrus Bergamot every day for 8 weeks
3:
Test your cholesterol levels AGAIN
4:
Write me a testimonial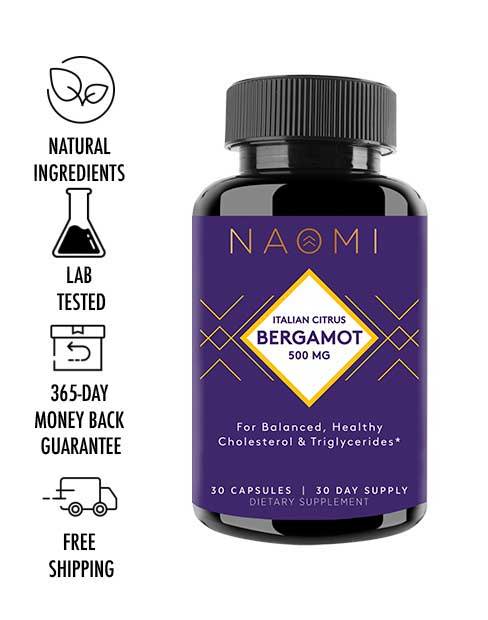 EACH BOTTLE IS BACKED BY OUR 365-DAY MONEY BACK GUARANTEE
It is my mission that whenever someone invests in one of my products that they feel completely safe & secure in their purchase. And because I have experienced the power of this incredible fruit myself, I am confident that you will not only be astounded by the powerful results - your doctor will be delighted as well. Here is everything you can expect to see with NAOMI Italian Citrus Bergamot:
Boost in beneficial HDL cholesterol

Help balance your blood sugar

Get the support needed for healthier blood vessels

Assistance in preventing the oxidation of cholesterol in your bloodstream
It's time to put your heart health on the right track, so you can celebrate a long, healthy, and happy life. Experience the full benefits of NAOMI Citrus Bergamot today risk-free for a full 365 days!
For balanced, healthy cholesterol and triglycerides
Choose your bundle & save big on your order now!